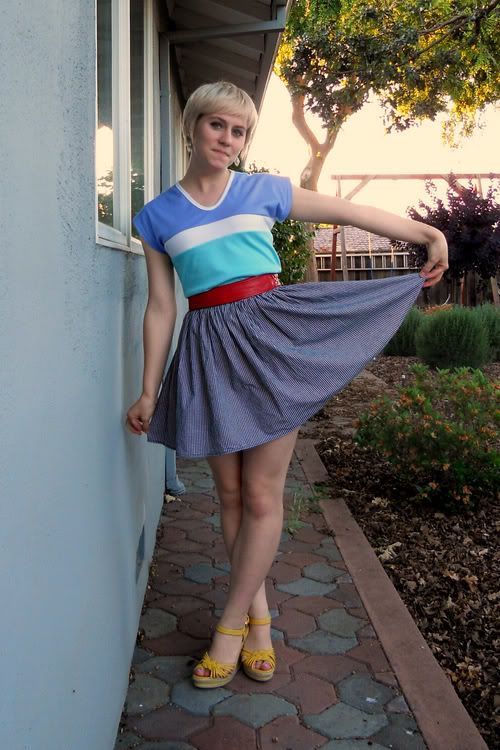 shirt: thrift -- skirt: hand-me-down from Kendra, American Apparel -- belt: thrift -- shoes: Seychelles
Obsessed
with these beautiful shoes I got 50% off from Piperlime. Sooooo comfy (for five inch heels, that is) and cute!
While I was still in school, I was convinced that I would have TONS of time and energy to blog (and read blogs) over the summer, but it hasn't quite turned out like that. True, I'm
free
when I get home from work--no homework, no nothing--but I also spend eight hours in front of the computer at work, so sitting in front of the computer for another two hours just is not appealing. I also don't know if I mentioned this, but I leave the house at 7:55 a.m. each morning and don't get back until 7:25 p.m. As you can imagine, those hours limit my free time. So. I have all these ideas of blog posts I want to do, have all of these half-written posts chillin' in my Blogger queue, waiting. But what's the rush, eh? I've been thinking about long-term blogging plans, and, to be honest, I can't really imagine wanting to continue blogging forever. Honestly, I expected to lose interest a few months in. And that was almost a year ago now (!). Do you plan or anticipate to keep blogging forever?
Oh, P.S., meet my brand-new boyfriend, Bobby!
And he has eyeballs (pretty ones!) and smiles a lot, I promise. I had to coach him on how to make a too-cool-for-school face. He seems to have risen to the challenge admirably though, I think :D
Today's title comes from the awesome condemnation/challenge of a love song "Turn It My Way" by the Halo Benders, side project of Calvin Johnson (Beat Happening) and Doug Martsch (Built to Spill). Awesome band.