Dressed as Dobby for HP7 last night! I was quite pleased with how my ears turned out.
Buying snacks at 7Eleven because I'm cheap and they have better selection than the theatre.
Bobby tries on a sneer as a much cuter and well-groomed version of Snape. Not pictured: the huge smile that broke across his face just after I took the photo. Angryfail! Try to be mad at someone in elf ears. Just try.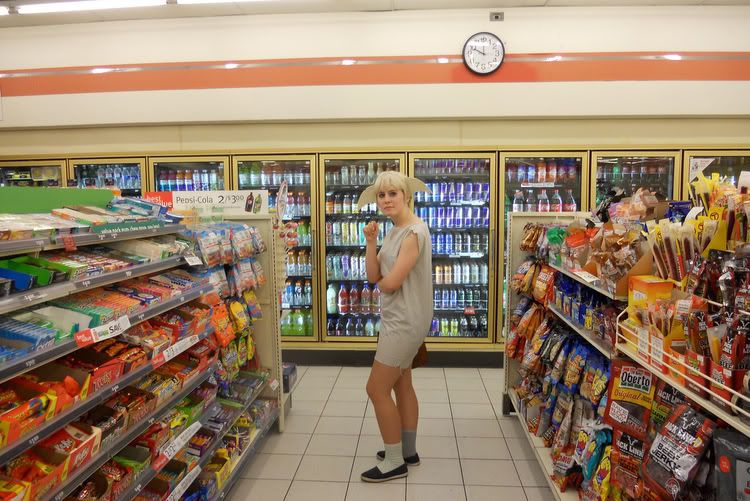 Bobby is shaping up to be quite the photographer!
Sweet patronus costumes! As we waited for the previews to start, some guys dressed as dementors came in, and the fellow in the purple robe shouted "expecto patronum," upon which the ladies dressed as patronuses ran around the theatre, chasing out the dementors. Sick!
So, as you can see, we went to go see Harry Potter at midnight last night. I'd get all gooey and wax poetic,
but I already did on the ModCloth Blog
!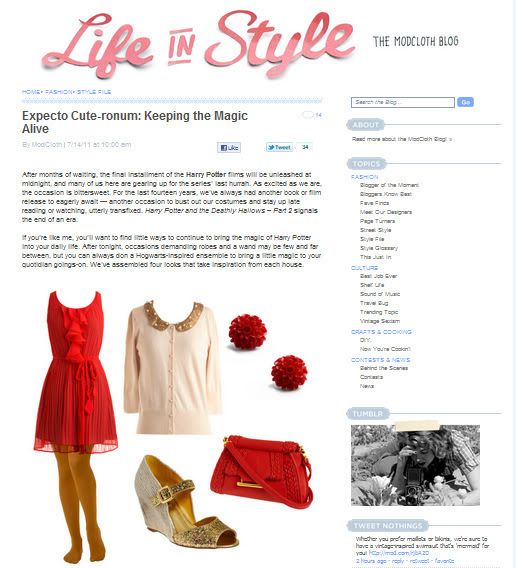 Having a blog post up on the MC Blog is truly a dream come true, and I can't believe I got to write about one of my favorite things in the world to boot!
I was completely exhausted when I woke up this morning since Bobby and I didn't get back to his apartment until 2:30am, and when confronted with the idea of wearing a tucked-in western shirt like I'd planned all day, I felt no small sense of dread. Happily, I thought of stealing one of his sweaters, and it made for a pretty ideal groggy day outfit!
jeans: Gap clearance -- sweater: J. Crew, Bobby's -- sandals: Target
It's very nice and sunny down where I live, but it's been foggy, drizzly, and cool for at least half of the summer up in San Francisco where the office is. Sweater weather in July? Really?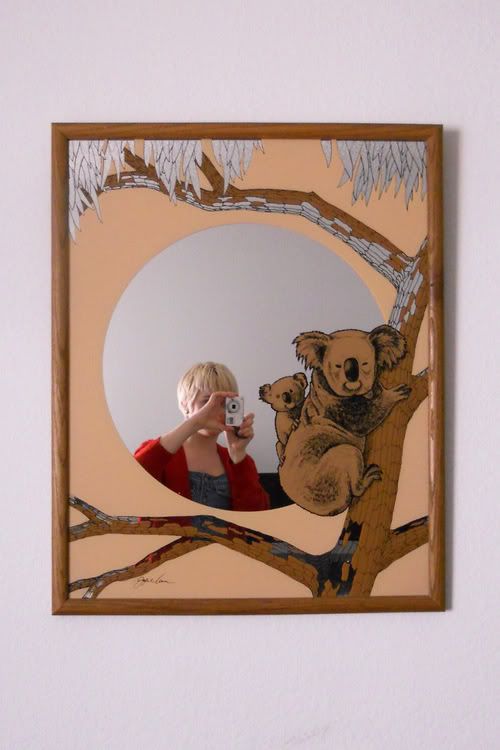 Sweet koala mirror we found for Bobby's room a few weeks ago. $7 at Goodwill. It does not get old.
I've been having an absolutely wonderful time all around, and I've got lots of little snapshots to share with you. I'm planning to take a lot of photos at work sometime soon so you can get a better sense of what I do and what it's like to work there. (It's great, in case you wondered!)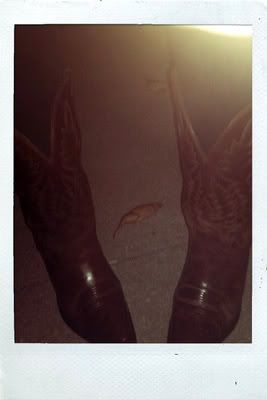 New cowboy boots.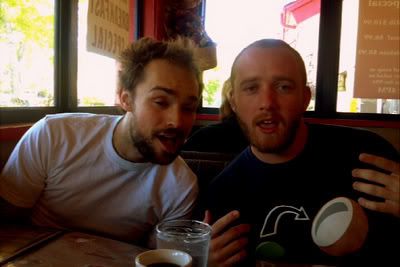 Friends Russ & Brian at A Fun Place to Eat.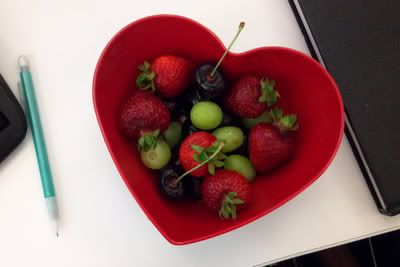 Delicious fruit at the ModOffices. I was a jerk and took a bunch of it back to my desk in that sweet heart-shaped bowl.
Bobby sips the (surprisingly good) coffee at AFPTE.
Reading on the train.
More cute snacks at work.
Today's title comes from The Flaming Lips -- Kim's Watermelon Gun.