In my years of thrifting, especially these last two borderline-obsessive ones, I've come across many a dress that just wasn't quite right.
Most of the time, it's length. Until the 1980s, dresses almost always ended below the knee. If you find an earlier one that is higher than that, I'd venture to guess it's been altered. Or it was owned by a very daring girl.
As a girl with not-so-long, not-so-thin legs, it's hard to pull off anything that ends between my knees and my feet. Mini or maxi, never midcalf. I've always loved dresses, but I haven't ever had a whole lot of them for that reason. If it's new, I probably think it's ugly or too expensive, but if it's vintage, it's probably unflattering.
This summer, I decided to take things into my own hands. It's been quite a learning curve--and my seams are still a little wonky--but I've gotten pretty adept at bringing up hems. I've even altered 3 pairs of jeans. One was a total mom-jeans-to-skinny-ankle-jeans production.
So, without further ado, here's how I spent a few hours today.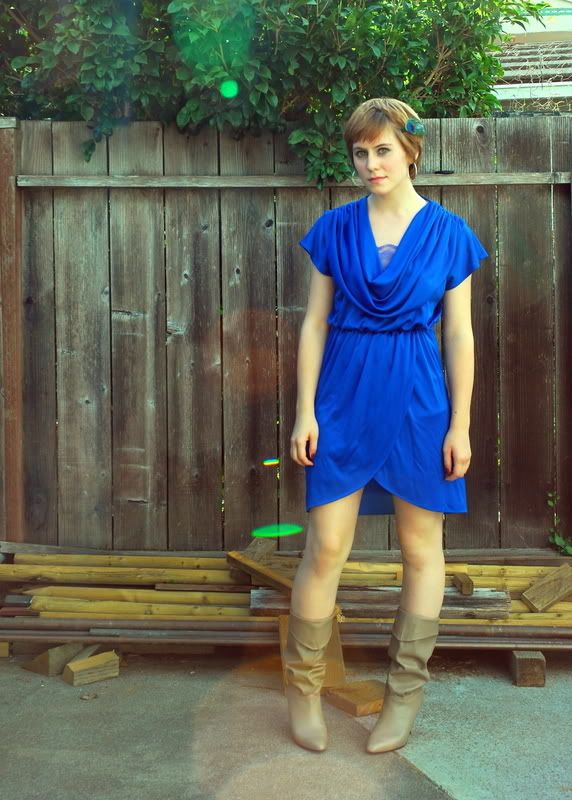 dress: vintage thrift , $4 -- earrings: from a street vendor, $0.75 -- peacock clip: from that same vendor, $1 -- boots: vintage thrift, $8.79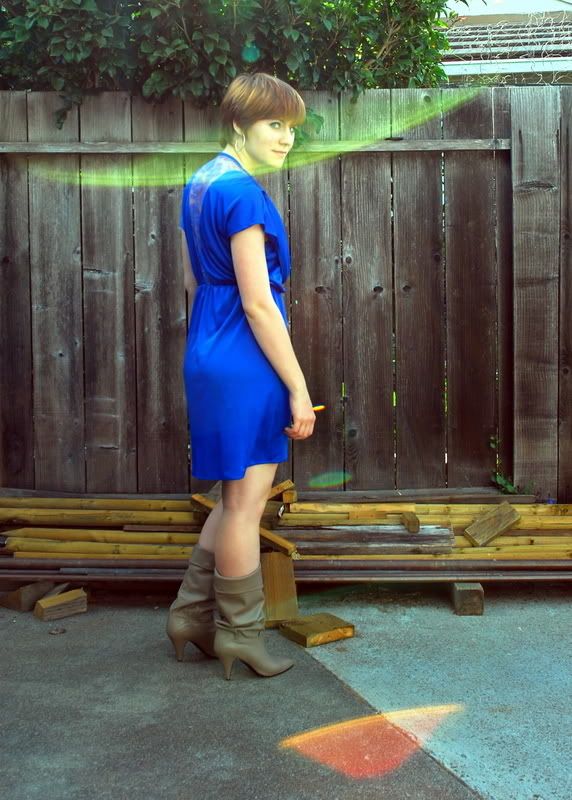 This dress was at a local Goodwill. It had these intense stains on the middle of it, so I got them to knock off 50%. Four bucks and a little washing later, it was ready for its makeover. It has that cool crossover skirt, which meant that I had to bring up the hem by redoing the waist. I wasn't going to mess with that skirt.
It should have been easy, and it was going well... until I realized I'd sewn the newly-shortened skirt on inside out. Oops. This was also after I'd miserably failed at putting in elastic. I had to rip out the elastic and the seam, which was a total nightmare. Two hours later though, everything was in its right place. But I'm still figuring out elastic. Man, that stuff is moody.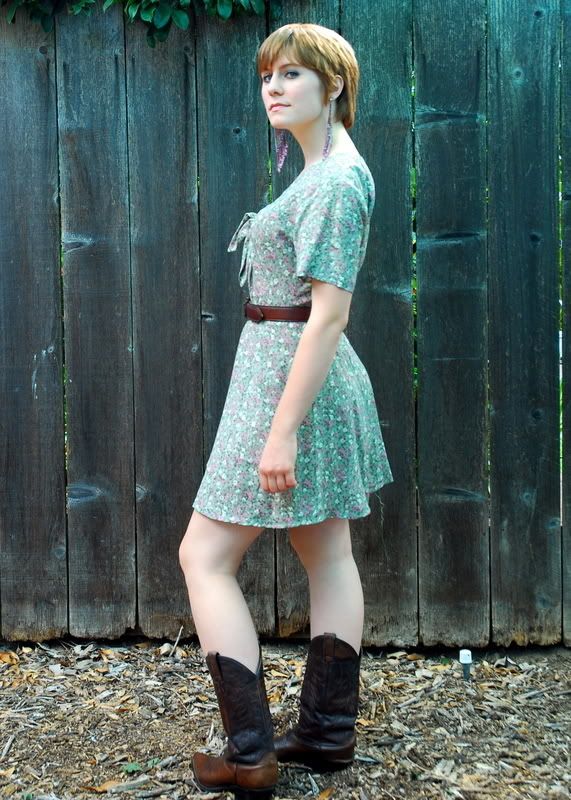 dress: vintage thrift, $3.35 -- earrings: Urban Outfitters, $5 -- belt: levi's, thrift, $2 -- boots: vintage thrift, $9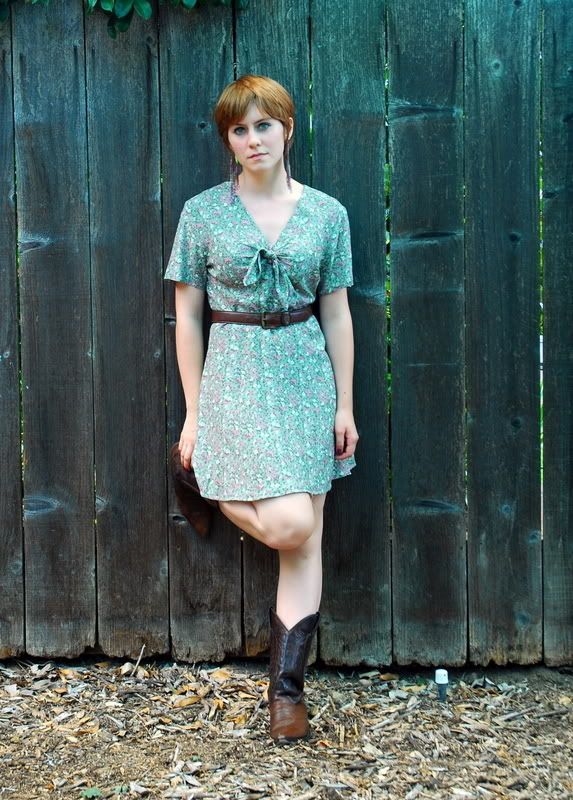 I bought this dress at half-off day at my favorite Salvation Army store. It went all the way down to my ankles. It was
intensely
dowdy. The 30s-style top was way, way too cute to pass up though, so I made it mine for $3.35 and had my way with the last foot of the dress. I'm really happy with how this hem turned out. It's the best one I've done on the machine so far.
My birthday is on Friday! I'm trying to decide what kind of cuisine I want for dinner. Being vegetarian makes going out for dinner a little dull, I can't lie. Unless it's Thai or Indian, I can't help but think, "I could totally make this myself" about almost everything. That's the beauty of pan-Asian faux-meat takeout and taquerias. I really couldn't make that myself. But I want something a little higher-end because, well, it's my birthday! Suggestions?