My chief agenda item today was teaching a photo class at my old high school how to make cyanotypes. They're my favorite alternative process, and I'm currently working on a project where I print on book pages. I should be finished in a few weeks, but until then, you'll have to content yourself with the cyanotypes on
my flickr.
Here's one of mine:
And here's a little snapshot of the ones the students made today: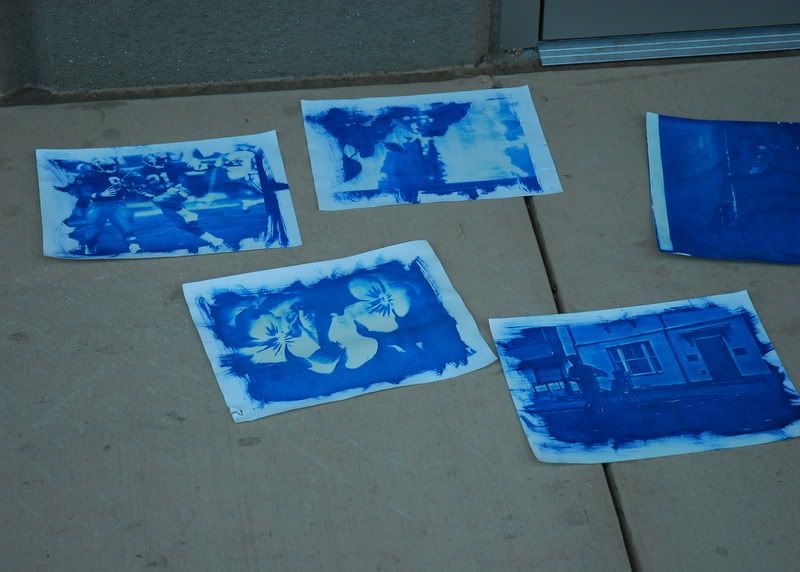 It was super hot out today, so with the triple restrictions of something vaguely compliant with my high school's dress code, oven-like outside conditions, and the real possibility of getting prussian blue pigment all over my clothes, I opted for this ensemble.
scarf: thrift, $2 -- shirt: thrift, $3 -- skirt: target, $10 -- shoes: thrift, $4 -- clutch: ebay, $2 (part of lot) -- earrings: thrift, $1

The really cool thing about the earrings I have on
is that I found them at the thrift store while wearing that shirt. They match perfectly--white on black Breton stripe.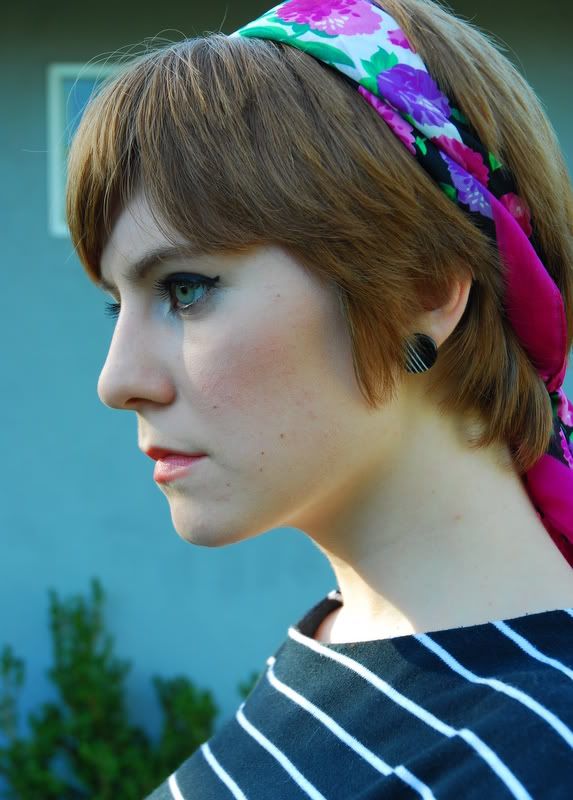 Pretty neat, huh? Sorry about the intense close up on my face. All those magazines really make the sight of pores sort of shocking. Anyway, my boyfriend Alex invented a word to describe an item you find thrifting that works perfectly with what you have on: "dippity." As in "seren
dipity
." So the earrings are, in our little jargon, a total dippity.
Alex wanted me to post his outfit on my blog, so here it is in all its austere and dandyish glory. He's seated on these intensely cool velour chairs at our favorite thrift store. If only either of us had room for them.
cardigan: American Apparel -- pants: Levi's -- shoes: Florsheim, I think -- tie: from the thrift store, but sadly full of holes and thus not purchased

Tomorrow is my 19th birthday! I'm looking forward to an awesome meal with my family, First Friday with my boyfriend and our friend Daisy, and then a trip to Point Lobos on Saturday with my boyfriend. Expect lots of documentation!