shorts: thrift -- cardigan: thrift -- boots: vintage via Etsy -- top: ModCloth (oh my goodness, it's such an incredible feeling to write that and know that I'm going to be working there in just a couple of weeks! I am the luckiest girl in the world.)
So, not that you can tell given the nasty fluorescent lighting in my room, but I got my roots done and hair re-toned and it looks awesome. My hairstylist is really a champ. She spent three hours dying and cutting my hair, and her hard work really shows. The roots are seamless, and she toned everything to the most lovely blonde--not too ashy, not too yellow, just a lovely wheat color. But, like I said... fluorescent lights.
It's been cloudy and rainy for the last few days, so the weather coupled with this nasty throat bug I have seemed like as good a reason as any to dress up in my version of grungy. To be fair, I spend a lot of time in jeans and a simple top on the weekend, but if I almost never wear that to class.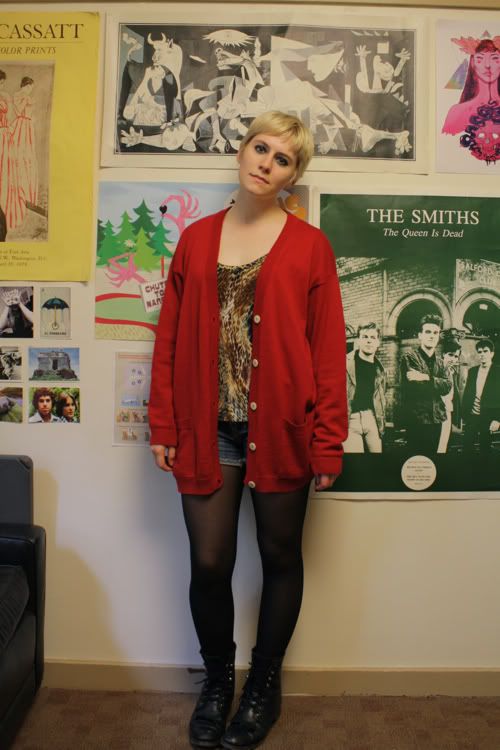 Anyway... Another crazy-busy week ahead, culminating in a 6AM journey to the airport on Friday to go see my sister's college graduation from Tufts. I'm so proud of her! Here's to getting my homework done on the plane, eh?
I'm thinking of putting a pad of paper and a pencil next to my pillow tonight so I can write down all the hilariously bizarre, utterly nonsensical combinations of words and ideas I come up with after I take my codeine and before I fall asleep. But then I might not ever sleep. Hmm...
I had a really lovely weekend--a nice balance of sleep, friends, food, and, most of all, dancing! What was the highlight of your weekend?
Today's title comes from Big Star -- "She's a Mover."