skirt: thrift circa 2004, stolen from my sister -- blazer: thrift -- shoes: thrift -- top: American Apparel (from the awesome days when I had 5 friends working there and got anything I wanted for 50% off...)
Bustin' out my gamine game for my last day of school stuff! It's been a crazy day, but an awesome one. I'm finally done with all of my academic commitments for the year! Yesss.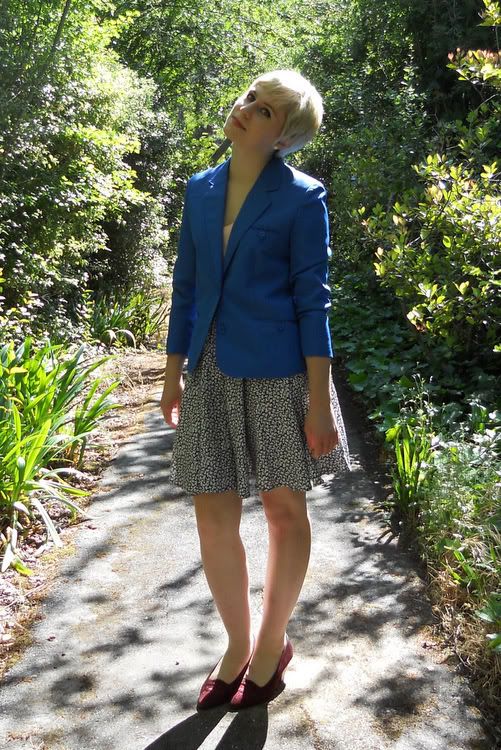 So I'm pretty obsessed with this blazer. I bought it last Wednesday at Salvation Army for a cool $3.40. I really dig the color and shrunken fit, I just wish the material were wool instead of this plastic-y polyester.
Bottlebrush forever!
Caveat: the following deals with problems
in arguments
(i.e., logical shortcomings), not things in my life that I experience as hardships. I'm a ponderer, and these are ponderings. Not things that actually trouble me. Just saying that in advance.
Yesterday, I showed my friend Bobby
the presentation I did last quarter about thrift and vintage fashion
, and he brought up an interesting hole in my argument. If I derive such a sense of worth from the uniqueness of a garment, doesn't the fact that there
must
be others of it (barring hand-made items) somehow detract from the sense of authenticity I feel?
I want to say "oh my goodness, of course not!" but that wouldn't be true. Don't get me wrong, most of my value of and attachment to my thrifted clothing comes from the energy I put into finding it and the joy it brings me, but there's definitely a bit of a letdown when I see someone else with that item.
Oddly enough, I've had the very rare occurrence of seeing another person in the same vintage piece (sort of) happen to me twice in the last week. I saw one of my thrifted vintage dresses on eBay (can't for the life of me find the listing, but I tried), and last Thursday, Katy from Kansas Couture sported a seventies skort that I have in a different color. Seeing what I think of as "my" clothes on other people shocked me a bit, but I don't think it actually diminished my enjoyment of my clothes. What really gets to me is seeing another woman wearing a piece from a mass-market retailer, probably because it reminds me of how terribly Unoriginal and Unspecial my garment is.
Moving out of my dorm room this week has drawn my attention to just how much goddamn clothing I have. I can't help but feel quite materialistic. I'm surrounded by stuff, and I imagine that I love it even though I know it couldn't possibly love me back. I see many of possessions as extensions of myself. I think that's why it unsettles me to see other people wearing the same thing as me--I see it as them wearing
my
identity. Of course, they aren't. They're just wearing clothes, and I'm making up a crazy story.
Oh, and just for fun, here's a photo of me from five years ago. I've had the same Photobucket for six years, and it's organized by month and year. It's pretty cool to be able to see me and my life change with nice precise dates.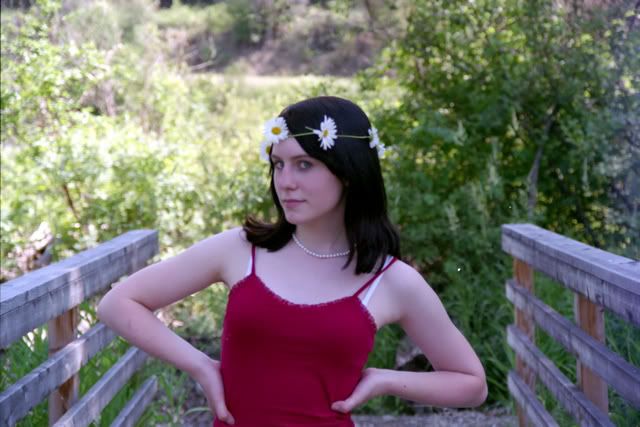 This was in my midi skirt, Converse Chuck Taylors, and pearls phase. Oh geez.
Today's title comes from New Order -- "Age of Consent," a song that invariably puts me in a great mood.