Sorry about the total lack of updates for the last 12 days. It's been a whirlwind of travel, prep work for a class I'm co-teaching, organizing an event, getting ready for classes, and moving into my university housing for the year.
Thankfully, all that's gone really well! I'm living in a co-op house this year. I spent half of the summer searching for a really cool sofa bed, and I finally found one at a little thrift store for $100. It's quite compact, but it folds out into a full-size bed. And I actually manged to arrange my furniture so it unfolds, too. I probably could have gotten something
"nicer
" for the money, but I just love the aesthetics of the couch, and, well, I'm a form above function girl :)
Behold it in its midcentry naugahyde glory!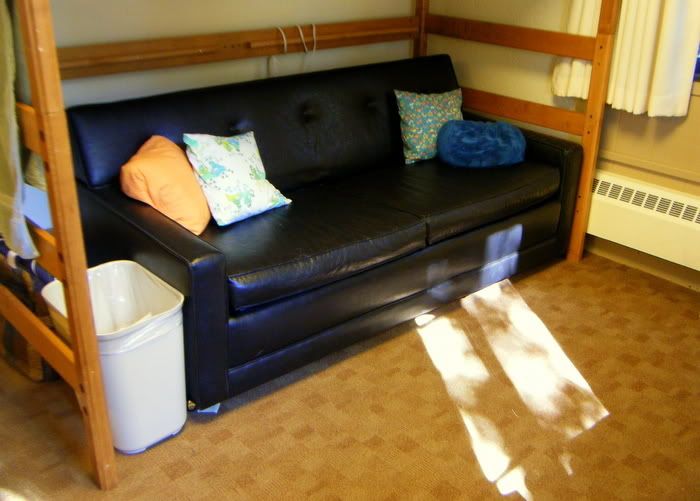 And some pillows with covers I made from vintage fabrics:
I organized a student panel about sex, dating, and relationships on campus for the freshmen orientation. The freshmen seemed to really enjoy themselves, and our panelists had lots of insightful things to say. It's always a good feeling to not only be done with something challenging but also to know that you've done it well.
I had my first class today, which meant I had to come up with my First Day of Class Outfit. I like to wear something on the first day of a class that's sort of the Reader's Digest of my personal style. So the idea is to look vintage-hipster-sophisticated-western-80s at the same time. I think I may have been overly ambitious about the plausibility of such an outfit. What I wore today just looked kind of off, so I didn't end up taking photos. Well, there's always tomorrow to impress my Tues/Thurs classes and share a neat outfit here, too!
It's a real challenge taking photos in my room. I have an east-facing window that looks into a walled courtyard and a south-facing window that's mostly blocked by trees. Oh, and a buzzing, dim flourescent light. Buying a lamp and some Reveal bulbs (I love CFLs but they just won't cut it in this case) is high on my agenda.
Ok, I could also have a friend take the pictures for me outside, but I still find it embarrassing that I do this at all and don't want to ask. I'll get over it eventually.
I wanted to show you all my favorite mug. It's a Taylor & Ng mug my mom bought me for my birthday last year after I found one at Goodwill and wanted more. Behold, hippos having an orgy!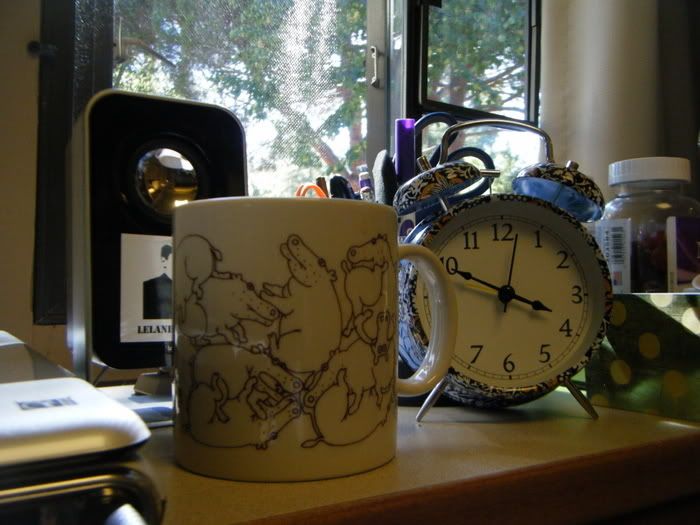 Also note my cool Victoria & Albert Museum alarm clock my mom bought me for my birthday this year :)
Time to do my first homework of the quarter!