So, after reading my September InStyle and Lucky magazines, I have to say that I find this year's fall trends pretty darn uninspiring.
Bbout my choice of magazines--I really prefer the ones that focus
just
on clothes, especially ready-to-wear and mass market. Pictures of models make me feel sad because I can't help thinking about how unhealthy they look and how much it messes with your body image to see women that thin all the time. I like pictures of clothes. What's more, I don't care about What He's Really Thinking in Bed or the How to Sculpt Your Abs in Less than 10 Minutes articles.
As for the trends go, I just don't think I'm a fur vest girl, and my legs are way too short to pull off the midcalf skirt trend. And that whole New Look revival style, well, um, I think I may have gotten that mostly out of my system when I wore long circle skirts or dresses almost every day back in 9-10th grade. It's too soon for me.

As for some of the other trends... Minimalism is more of a classic thing, almost a non-trend. Audrey Hepburn is a style icon for a reason. And, um, wow, leather jackets for fall!!?! What a concept.
I know I sound like a naysayer, but I just couldn't really get excited about anything.
What I do really like are these desert boot heels and slouchy ankle boots, which I can't afford anyway. But here they are in all their glory!
Indigo by Clarks Water Row in green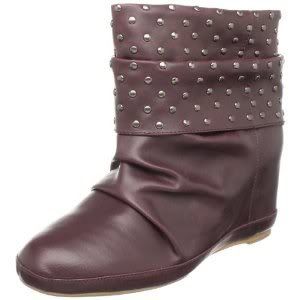 80%20 Chaia in cordovan.
I think they're both really tastefully styled shoes that look like they'd be really comfortable. I love how both shoes would look amazing with dresses/skirts/shorts and tights. I love that look for transitioning weather. And those 80%20 shoes are faux leather, meaning they would be pretty incredible rain-friendly shoes. Hmm...