top: thrift -- pants: thrift -- shoes: thrift -- jacket: vintage -- necklace: won from Sydney's giveaway!
I'm finally back with an outfit post! Hooray! I wasn't feeling especially inspired over the last couple of weeks, and when I was, I didn't have the time to take photos. But things are mellower now, and I'm feeling like I'm back in the game.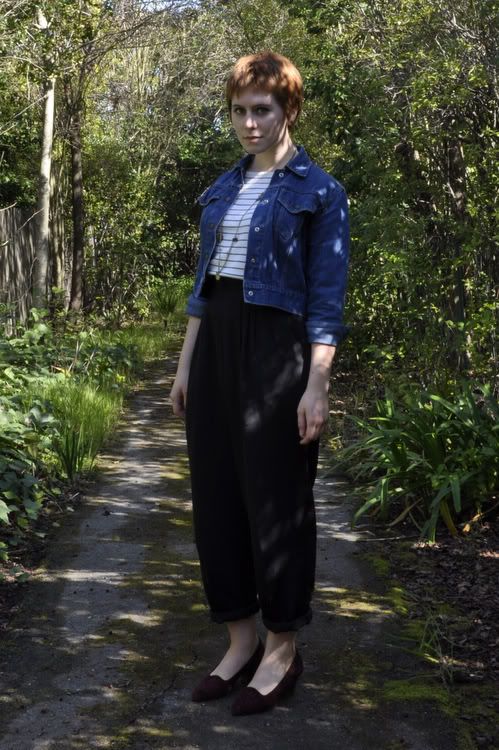 So, strictly speaking, these pants aren't flattering at all. But I love them anyway. They may make my butt look as saggy as a deflated balloon, but they're just so fun to wear. What do you guys think about wearing things you know are less-than-flattering? Is it ever a good idea?
I was so touched by the feedback on
my last post about some mental health struggles
that I've had. I really appreciate that so many of you took the time to comment and share some of your experiences, too. Writing is very near and dear to my heart, so your feedback has been really validating. I want to try to get back into writing--I'm actually thinking of starting a writing Tumblr or something.
Today's title comes from David Bowie -- "Up the Hill Backwards." The title/lyric of the song is such a great image of how life is: always working toward something with no ability to see what's coming next. All we can do is gaze upon the past. Oooh. Deep.
Speaking of David Bowie, on Friday, Alex and I watched
Labyrinth
, which was terrible/hilarious/awesome. I think the wine we were drinking enhanced the experience. (Sadly, the movie did not enhance the wine. Gotta spring for the $5 bottle next time.)
Labyrinth
contains what I have to say are The Worst Bowie songs I've ever heard. But it was fun, and I can't believe that I'd never seen it before.
On Saturday, I went with my photography class to a little town on the coast. We had breakfast together and then went shooting on a couple different beaches. It was a really wonderful time, in spite of the rain. I got some great shots that I can't wait to show you when I get a chance to scan them.
I got in some R&R on Sunday and spent yesterday in the darkroom. I'm really excited for the week ahead, and it's off to a good start :)
How did you spend your long weekend?