shorts: thrift -- blazer: thrift -- shoes: thrift -- belt: thrift -- top: stolen from my mom five years ago
Hey guys, do you see what's happening in that photo? Do you see what I'm doing? I'M SMILING! Ce n'est pas possible! Laughing, even :)
After seeing all of Kristen Wiig's adorable boyfriend blazers in
Bridesmaids
(which was fantastic), I was eager to bust mine out for a day of adventures with my friend Bobby. We ate brunch at this diner near my parents' house that I've always secretly longed to try and he just randomly took me to. Nice. The diner advertises itself as being "A Fun Place to Eat!" and the whole thing is covered in these absurd signs with gruesome usage errors and gag-worthy jokes. It's
awesome
.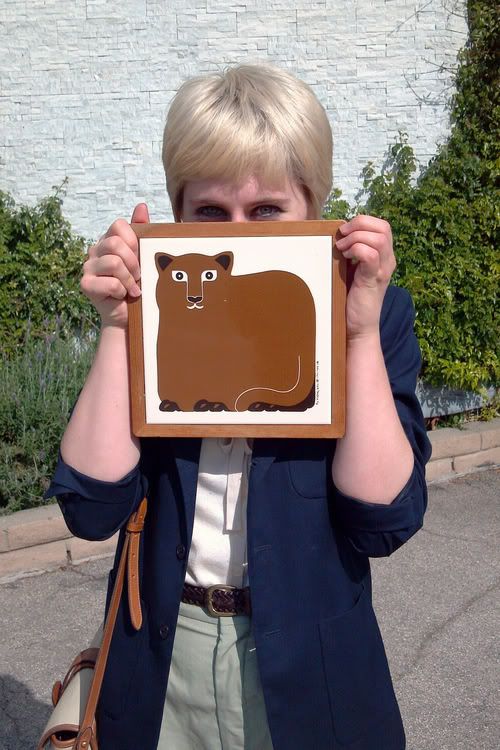 My new Taylor & Ng Catbear trivet/wall hanging. $1 at this little thrift store in Felton.
Most adorbs church ever, right? And these last two photos are from my brand new smartphone!
I managed to drop my old phone in the toilet on Tuesday night (damn back pockets...), and it seemed like as good an excuse as any to finally cross over. Of course, my phone still worked once I let it dry, but after such trials as falling 30 feet off a roof, spending a night in the bushes (there was a slug on it in the morning), and a previous aqueous adventure, I figured it probably didn't need any more of my abuse.
I'd been apprehensive about getting a smartphone because I'm already in front of a computer so often that taking a break seemed like a pretty good idea. But I found myself constantly wishing I could have access to the Internet and my email when I'm on-the-go, so I just went for it. I opted for the Droid X2 because it has a giant beautiful screen perfect for perusing blogs and ModCloth and reading Wikipedia and, once I figure out how, watching movies and shows.
The last week of my life has been positively absurd--two final essays, a final exam, moving out of my dorm, shifts at my job in the photo lab, seeing friends before they leave for the summer, and going to ModCloth all day. What I'm lacking in sleep I'm making up for in fun though! Life is awesome :)
I'm working on a serious-ish post I'm really excited to share with all of you! I think you'll love it. I'm aiming for Tuesday.