dress: thrift -- boots: thrift -- shirt: thrift -- tights: Marshall's -- leather jacket (next photo): thrift
100% thrift today, not counting tights. It's raining like crazy today, which I normally wouldn't mind, but it's supposed to keep raining the whole way through my spring break. Lame! I just took all my spring clothes up to school with me, too. :(
I've been using my camera that I bought in 2005 to take photos for these last two posts since it somehow manages to take way sharper photos than my camera from 2008. Oh well. It has some dead pixels and a weird dark spot, but it also has a swivel LCD like a video camera. Meaning that I can actually see where I am in the shot while I'm waiting for the self timer to go off. Very convenient.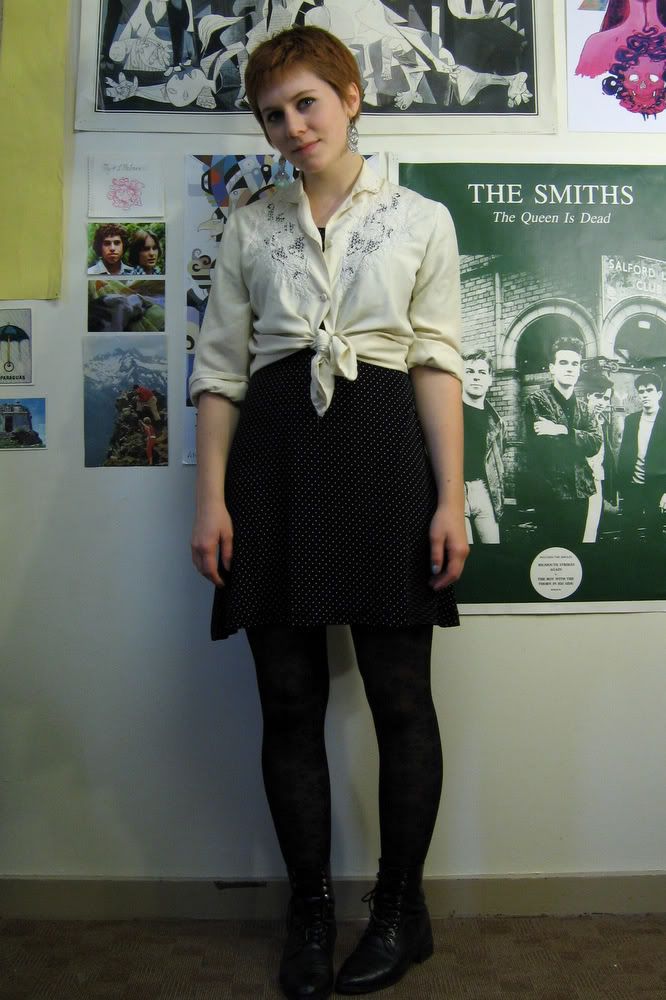 Tomorrow, I'm going to finish up my Etsy stuff and catch up with all of your blogs. In the meantime, I am basking in the wonderful feeling of not having any pressing engagements or tasks.
Today's title comes from The Beta Band -- Dry the Rain. Such a nice mellow jam, and it's in one of my favorite scenes in my favorite movies,
High Fidelity
.