dress: thrift -- cardigan: thrift -- hat: thrift -- boots: Etsy -- tights: Target, present from my sister Molly
I hope you like my angry face. I whipped out my most scathing, withering looks for all of you! Just kidding. I'm actually a very silly person, but you all thought I looked really good with my angry face on in my last post, so I thought I'd do my best smizing for all of you today. I think it just looks hilarious.
I look normal in this one at least, right?
So, confession. This is probably the third time I've worn this outfit, I just haven't ever put it on the blog. It's super comfy, and it reminds me of Andi might wear in
Pretty in Pink
. She's pretty much my style icon.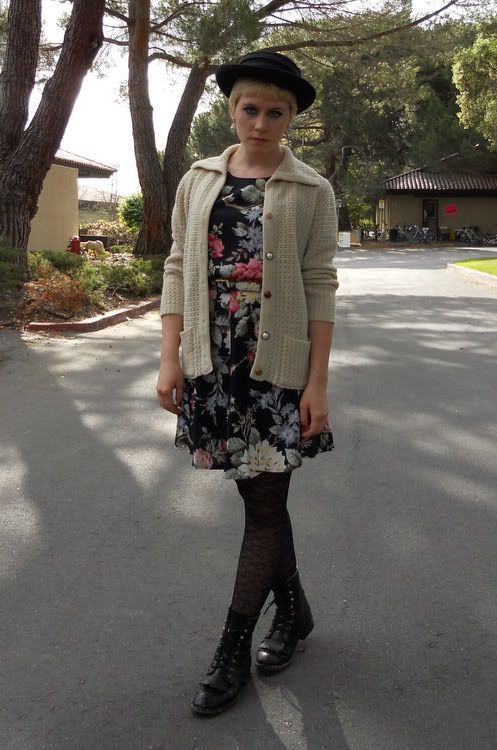 This is the face I will make right before I say my most calculatedly cold put-down.
My computer has something terribly wrong with it, and will only run the internet browser and Picasa. Something really weird happened that corrupted one of the basic application-launching processes, and I've been working hard with my dad to try to fix things to no avail. Hopefully we'll figure it out today. In the meantime, I've been experimenting with cloud computing. Everything I need to read or write I have to upload and work on in Google Docs, and I've been using Grooveshark to listen to music since I can't use iTunes. I have to say that it's really convenient for someone like me who probably uses 2-4 different computers every day.
Today's title comes from The Hues Corporation -- "Rock the Boat." I'd say (without the slightest trace of irony) that it's probably one of my favorite songs ever. It never fails to put me in a grand mood. Make of that what you will :P