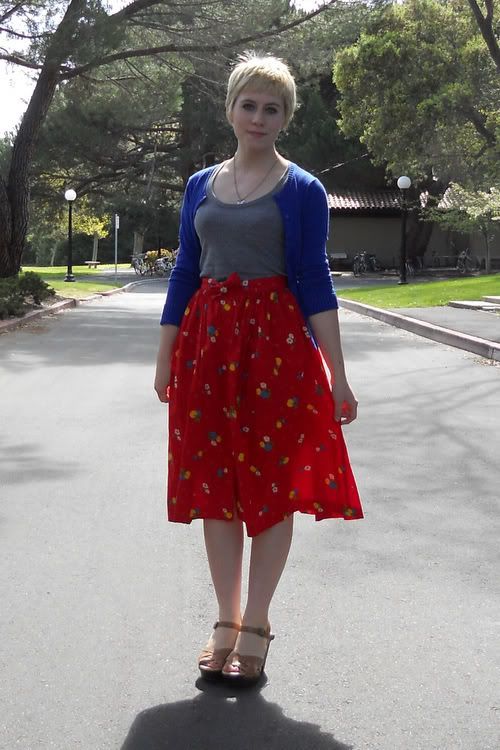 skirt: thrift -- top: Urban Outfitters clearance -- cardigan: thrift -- shoes: Target
My mom has diagnosed my persistent irritation with having to be in class all day as a classic case of spring fever, and I'm inclined to degree. The sun is out (sort of), and all I want to do is go on adventures and listen to music.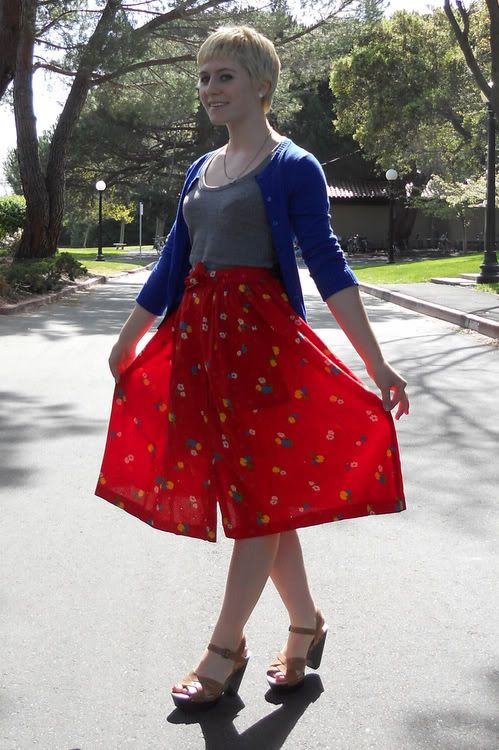 This is a very
Annebeth
-inspired look. She rocks these tea-length skirts like a pro, and I've been meaning to try it out for ages. I impulse bought these shoes at Target yesterday, and they seemed like the perfect complement to the longer-length skirt. I bought the skirt while out thrifting with Shannon a few weeks ago. I actually have this thing for red skirts. I must have four or five.
So, as you can see, I managed to get my hair platinum again! I just used the ManicPanic "Virgin Snow" toner once more, and it worked like a charm. Go figure.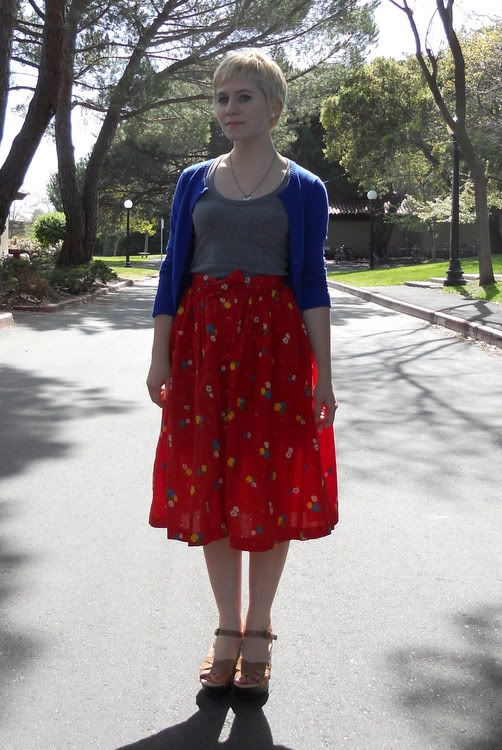 I made that little rocking horse necklace way back in 8th grade out of a pair of earrings from this crazy mess of a thrift store that's sadly closed up shop in the intervening years. I don't often wear the necklace, but I always get a little thrill out of how freakin' adorable it is whenever I wear it.
Today's title comes from Aztec Camera -- "Release," which is one of my favorite songs off their amazing album
High Land, Hard Rain
. It was released when their core member and singer-songwriter Roddy Frame was only 19. It's SUCH an amazing record, and I strongly recommend it! Another gem from Postcard Records, the little Scottish indie label that also released Orange Juice and Josef K.
"Release" isn't on YouTube, but here's another great Aztec Camera song from
High Land, Hard Rain
!
PS--look at what a well-dressed cutie R. Frame was back in the day!