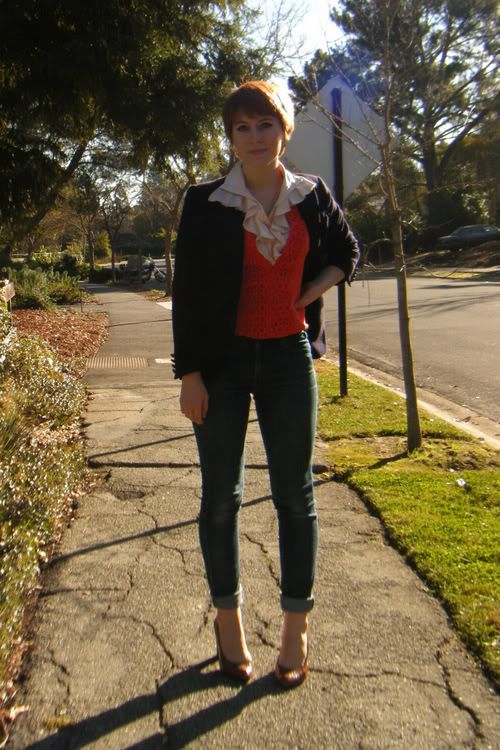 jeans: Levi's -- top: thrift -- blazer: found in costume closet -- shoes: Pour la Victoire via Loehmann's -- cardigan: Delia*s clearance
I wish today's photos had come out better! I was in a rush to get to class, and I wasn't nearly attentive enough to the exposure settings. Ah well! It also drives me crazy how my (point and shoot) camera always makes my shoes blurry. Grr.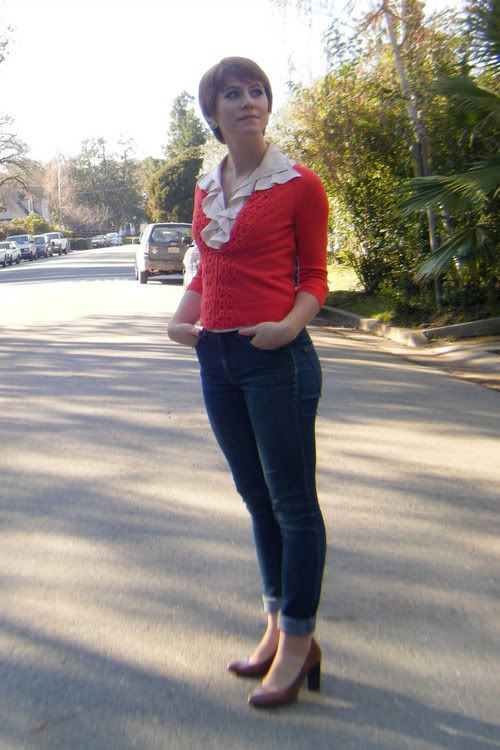 Anyway, I love the colors in this outfit. Lucky magazine was talking about pairing pale pink with orange, and I thought that sounded like a really dandy idea. I topped it off with cognac shoes and this amazing blazer I found in my school's costume closet when I directed a play in my senior year of high school.
The blazer fits me
perfectly
and seems to be a real work of craftsmanship. It has great details like this striped lining in the sleeves and red piping where the lining meets the wool.
It was also made in the city where I live!
Thanks for all of your congratulations on my last post! I really appreciate it :) I'm sorry if I've been a little slow on responding to comments--school's back in session, and my life is back to its usual over-scheduled pace. Hopefully I'll get into the swing of things.
Today's post title comes from Pink Floyd -- Apples and Oranges. Syd Barrett forever!