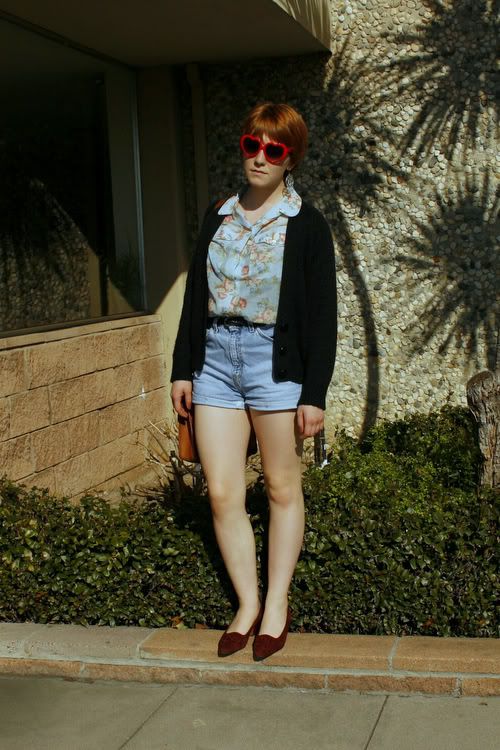 shirt: thrift -- cardigan: thrift -- shorts: thrift -- shoes: thrift -- sunnies: small town county fair -- earrings: random vendor outside my school's bookstore (her business model is everything is $2. Geeeeenius.)
I spent the afternoon with Alex today, which was lovely! We went for a drive around San Jose, and he pulled over at this great sixties-built church for some photo-taking. It reminded me a lot of the pictures I've seen of Palm Springs architecture, and it seemed like the perfect SoCal-esque backdrop for our SoCal-esque weather.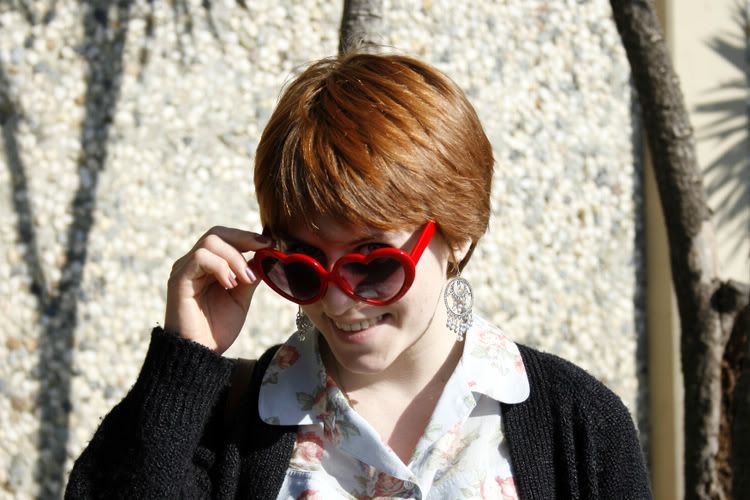 Everything I'm wearing in this outfit was all purchased from different 50% off thrift store sales. I think that makes the grand total $9, $15 with the sunglasses and earrings. Take that, Urban Outfitters! (Or, as Alex calls it, "the store for people who haven't discovered thrift stores." That said, he buys his Levi's there and I sometimes buy stuff on sale. Ok, and I bought some Levi's there recently, too. Hypocrisy!)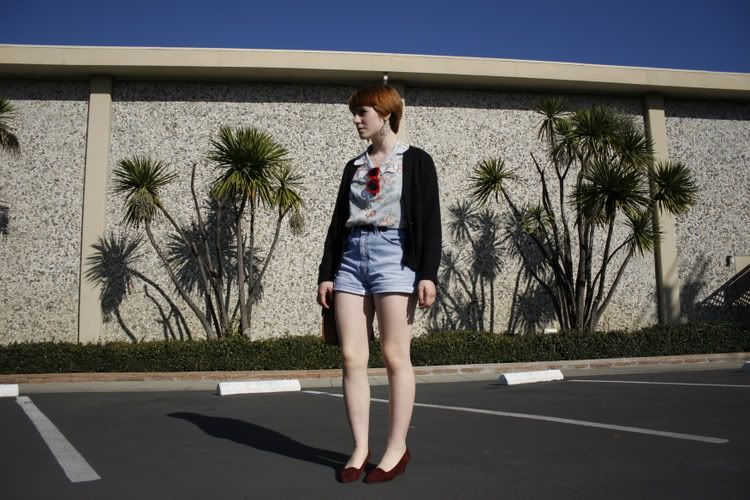 My legs are SO pale. It's like I have on white tights.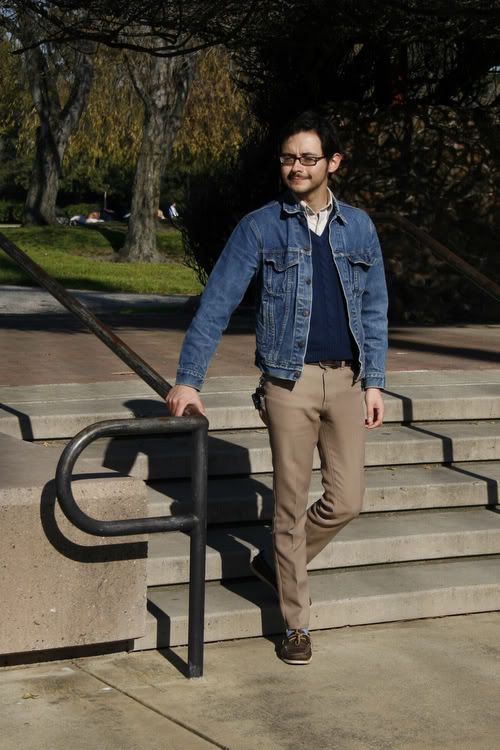 Alex descends into the picnic gazebo thing in one of our favorite city parks.
We don't kid around. Wait, all we do is kid around...
One of the best things about this park is that it's adjacent to this teeny random thrift store that's part of a Catholic school/church. It's open for about four hours a day, so actually making it inside is always an event. They were having an "everything's a dollar" sale, so I picked up a really cool sixties beach cover up/dress thing and a really cool sixties blouse/tunic/thing.
My haircut is in exactly a week, and I can't wait. It's way,
way
too long/fluffy right now. Gonna get a Jean Seberg pixie!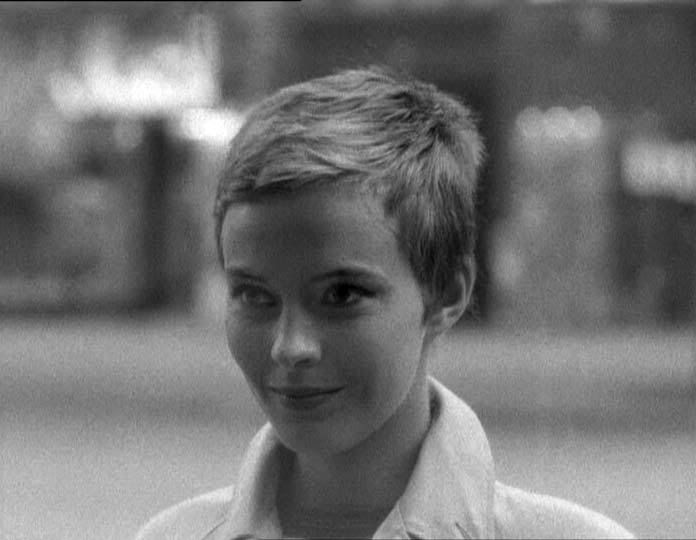 It will be the baldest I have ever been since I was a baby!
A couple of you asked about photo-taking in my last post. Well, the answer to that is somewhat complex. Since starting this blog in late August, I've posted outfit photos from at least six different cameras. I have a little point-and-shoot, which is what I usually use. If I have a DSLR checked out from my school, I like to use that. If I mention that Alex took the photos, he took them on his DSLR, usually. Alex can't take my photos most of the time since we live about 30 minutes away from each other and really only hang out on weekends. Most of the time, I just use self-timer and a tripod, no remote.

Today's title comes from The Undertones -- Get Over You, a super fun punk/new wave gem.