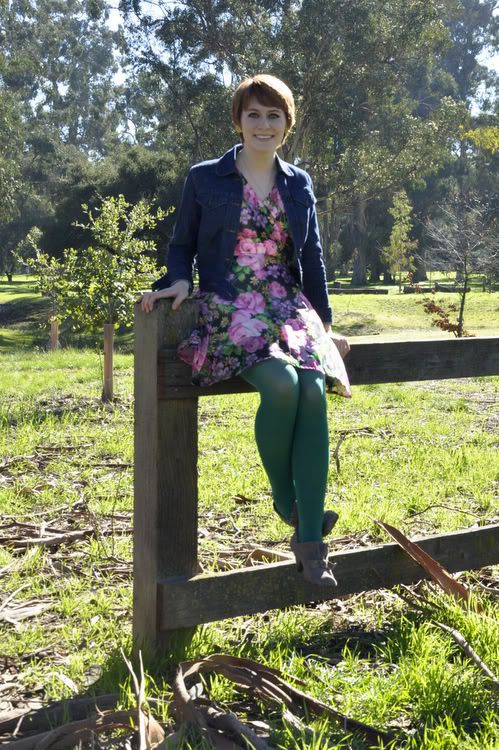 dress: vintage -- shoes: BC Footwear via Nordstrom Rack -- jacket: Levi's clearance -- tights: Target, gift from my sister <3
Can you tell how happy I was when I took these? I came back to campus after an appointment, and the sun was out and the grass was green, and I saw a weird little road leading into the middle of the expanse of grass with eucalyptus and oak trees that you see in these photos. It just put me in the best mood :) I totally sketchily parked my car in the
CONSTRUCTION PARKING ONLY
zone, shot some photos, did some dirt-road-driving to turn my car around, and exited the area just as a campus sheriff drove down the road I had parked on. Win!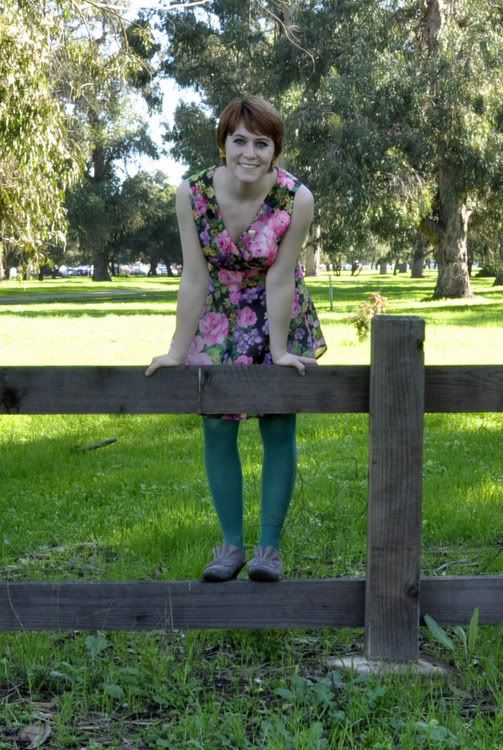 After seeing so many gorgeous 50s dresses on bloggers recently, I was taken with quite a 50s dress jones that I couldn't seem to shake. Two weeks of waffling later, I decided that I should just buy the thing since I hadn't lost the impulse. I found it at my favorite vintage shop for $32, and that's on the more expensive end of their price spectrum. This dress is so amazing. It fits as if it were tailored to me. Nothing's too tight, too short, or too long. It's juuuust right! I think that at $110, this is the most expensive outfit I've ever worn on the blog, excluding ones that include my leather jacket. Not bad, eh? I may spend way too much time on clothes, but at least I don't spend way too much money.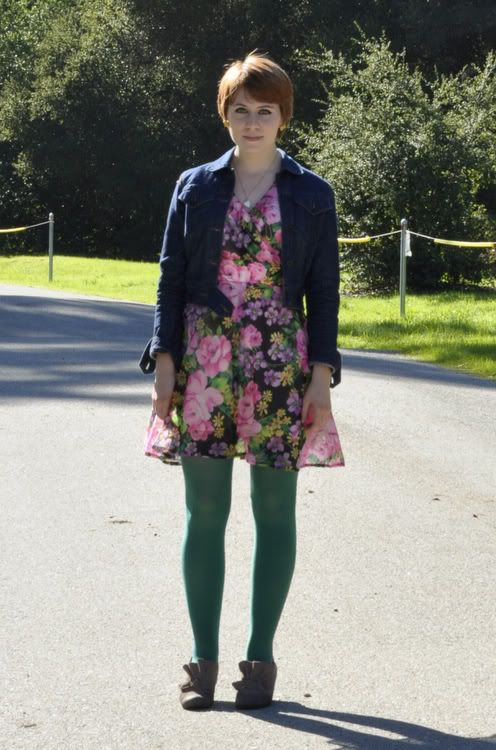 I've been hearing Florence + the Machine -- The Dog Days Are Over on the radio, on friends' stereos, and in stores a lot recently. I like the song, but it always just makes me want to listen to Kate Bush, whose song "Cloudbusting" supplies the title of this post. That particular tune probably isn't the best intro to Kate Bush, so I'm posting the really cool video for her super-catchy song "Hounds of Love" instead.
I noticed I've been listening to music by women a lot recently. Joni Mitchell, Best Coast, Patti Smith, Kate Bush, and Beach House. There's something very refreshing about the female perspective since so much of the stuff I listen to (probably 85% or more) is by men.