skirt: thrift -- blouse: thrift -- shoes: BC Footwear via Nordstrom Rack -- tights: Payless shoes clearance -- cardigan (below): thrifted
Sporting my newly-thrifted skirt, which I made mine for $4 and change. I really like it because it's quite fun and funky without being too over-the-top. And dig the weather! I wasn't cold
at all
while taking these photos. Gotta love the Bay Area.
I'm sorry to be such a poor blog-reader recently. I barely have time to write my own blog at the moment. I've been especially booked this week with attending meetings, finishing up some personal tasks, and getting all adjusted to my new academic schedule. I also spent a lot of time doing yoga this week. I've done yoga many times in the past, but I haven't ever taken any classes here at my university. Unfortunately, both of the instructors I've tried out thus far weren't quite jiving with what it is that I want to do in or derive from a yoga class. Nevertheless, they've really whetted my appetite for yoga, and for that alone I am glad I spent the time and money. Now to find the right class!
Anyway, I was feeling silly this afternoon while taking my photos. Observe.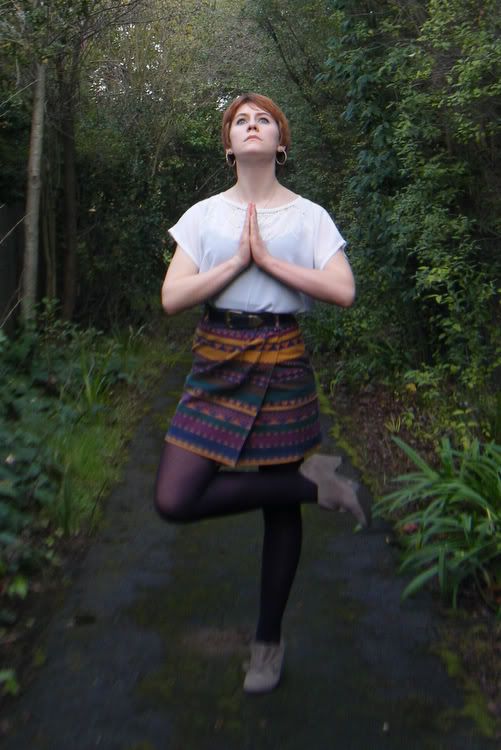 Busting out a modified tree pose. Somehow pinning my heeled shoe against my thigh just didn't seem appealing.
Impersonating an airplane (or an albatross!).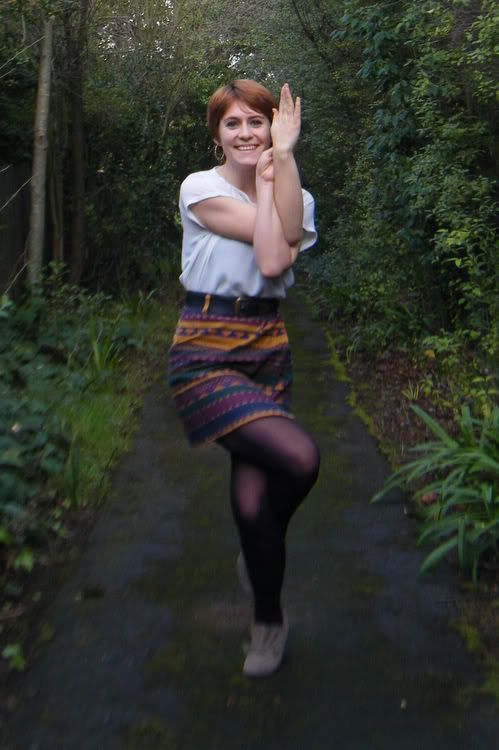 My attempt to get into eagle's pose before the self-timer clicked.
Mood swings. I love that cardigan I'm messing around with. I bought it for $1.50 at the Salvation Army in senior year of high school, and I've worn it way more than I should ever since.
I think I'm going to try putting my tripod much lower to the ground and see if that helps with the blurred-shoes-thing. I noticed that all of the ones where my shoes are in crisp focus were ones where I rested the camera on a random low wall or something. Hmmm.
Today's song title comes from The Smiths -- You Just Haven't Earned It Yet, Baby. (In case it wasn't already clear, I'm totally obsessed with The Smiths.)