First things first...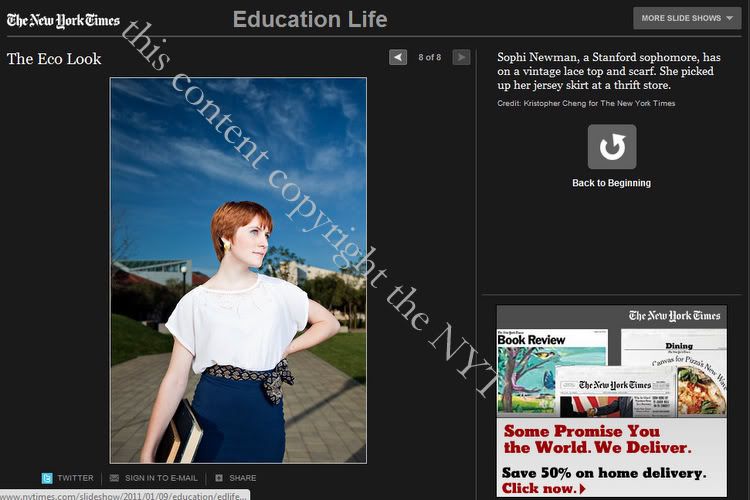 ...that's me! In an all-thrift look I styled for
a photoshoot for the New York Times
! I've been wanting to share this with you guys for so long. Back in November, my friend
Alok
invited me to participate in a shoot that our school's Sustainable Fashion Collective was doing for a New York Times feature piece about sustainable fashion on college campuses. I lent a lot of clothes to the group and modeled for the shoot, and I was lucky enough to make it into the online feature. Best of all, I'm wearing the top that's pretty much my favorite shirt ever :)
I can't thank Alok or the Sustainable Fashion Collective enough for getting me involved. It was a really wonderful, fun experience. Major props to our photographer, a fellow student
Kris Cheng
.
And now onto Photo Sunday. I thought that today, I'd share some of my favorite photographs, all by different photographers. I left out ones by people I've already featured in Photo Friday/Sunday, but their work would all definitely be here otherwise.
Edward Weston
Charis Wilson
, 1937
source
This photograph is one of the dozens of unforgettable images that Edward Weston and his muse/model/wife Charis Wilson created together. I believe that it's a photograph taken during the time they spent touring the States and making photographs for a Guggenheim Fellowship. There's just such an obvious connection between Charis Wilson and Edward Weston that comes across in this photograph. It's as if you can see all of their relationship just in her expression. Some of my photography teachers were actually friends of Charis Wilson, having met her because she spent the second half of her life in Santa Cruz, which neighbors the San Francisco Bay Area to the south. She passed away in 2009 at the age of 95. By all accounts, Charis Wilson was a beautiful human being in all senses of the word. A documentary about her and Edward Weston,
Eloquent Nude
, is definitely worth watching.
Alphonse Mucha, 1908
source
I only know about this photograph because I bought a postcard of it at the Metropolitan Museum when I was 13. I don't think I even saw the print itself. I love the juxtaposition of the gazing woman and the sleeping man. It's a sort of unfamiliar visual scene, but I always have such a strong impulse to figure out what the model must have been thinking. It's corny, but you can really see something behind her eyes, can't you?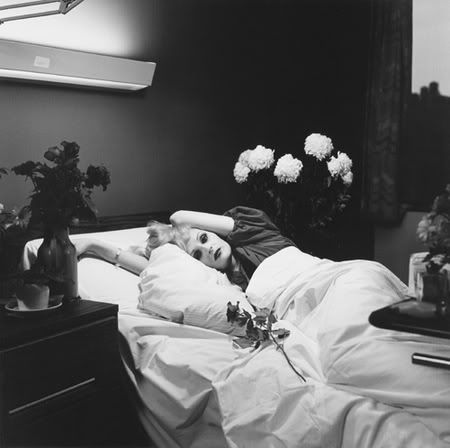 Peter Hujar
Candy Darling on her Deathbed, 1974
source
I first saw this photograph as the cover of Antony and the Johnson's album
I Am a Bird Now
. Candy Darling was a Warhol Factory superstar, a transwoman who delighted everyone with her beauty. And that's her Lou Reed sings about in "Candy Says." She died of leukemia in 1974 at age 29. All of her grace and all of her sadness come across in this image.
Man Ray
source
This is probably the first photograph that I ever really fell in love with. I'm not sure I'd find it quite so impressive now as I did when I was 13, but I can still look at it for a long time. I think Man Ray singlehandedly created my artistic interest in creating surreal images.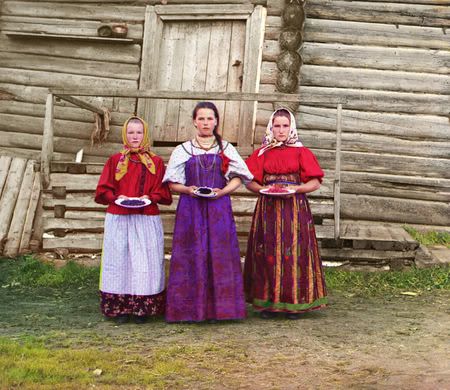 Sergei Mikhailovich Prokudin-Gorskii
source
This photograph is from 1909. That's right. 1909. Full color.
Prokudin-Gorskii
essentially invented the Technicolor process. I think the process of this image is what really fascinates me, but the composition and colors and expressions themselves would make it a standout even with today's technology.
I hope you liked seeing this little smattering of photographs! It was a lot of fun to put together.
On the subject of photography,
RosieGlow is having a camera necklace giveaway
! It's SUCH a cute piece :)