I took a stroll through the little forest by my dorm house today, and it was lovely. Red and blue is one of my favorite color combinations, and it's been all over fashion blogs and sites this month. Since it was so sunny today, it seemed like a natural time to try it out.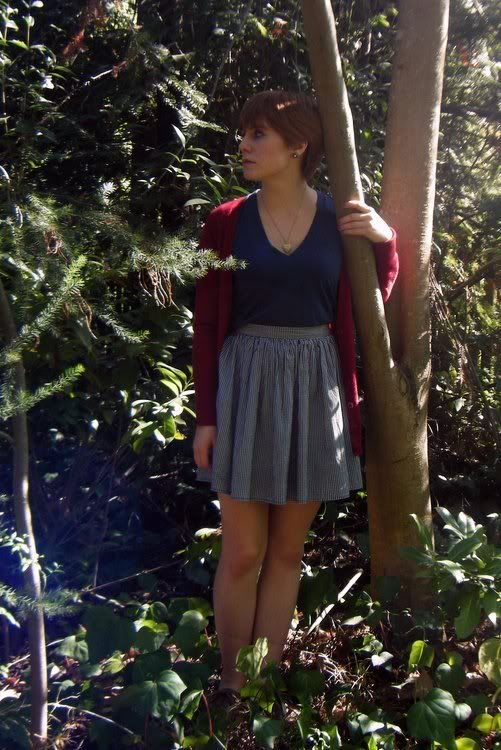 skirt: American Apparel, hand-me-down -- shirt: American Apparel, $9 -- cardigan: Levi's, hand-me-down -- shoes: MIA via Nordstrom Rack, $40
The problem with taking photos out there is that it's nearly impossible to show flat shoes over the groundcover!
I definitely got a spiderweb to the face taking these photos. Yiiikes.
I feel guilty when I don't actually write any real content in an update, but I'm just so busy that I don't have time. Today I've been slaving over this extremely comprehensive Power Point all about contraceptive methods. I co-teach a sex ed class at my college, which is really the culmination-this-far of my lifelong obsession with sexual health. My interest is really scientific, actually--I love understanding the biology behind how and why things work, memorizing statistics, stuff like that. The hours of work have paid off though, because the presentation is exactly how I want it to be. And yes, there is a picture of Elaine Benes and a reference to being spongeworthy. (Can't help myself--the sponge has a pretty high failure rate, and there are far better choices for most women!)
Better go! If I keep writing, I'll be late to my own class :P