skirt: thrift, $5 -- top: thrift, $4 -- boots: thrift, $7 -- cardigan: thrift, $3.50 -- tights: Nicole Miller via Marshall's, $3 -- necklace: won via The Upside of Wonder in an All the Pretty Birds Vintage giveaway!
Alex took photos for me today! I also spruced up the blog a bit, I hope you like it :)
It rained today, which I really enjoyed. The Indian summer we've been having was welcome, considering what a comparatively cold summer we had here in the Bay Area, but I was getting pretty sick of my summer clothes.
Autumn and Winter dressing offers so many more style options! Logically, it makes perfect sense: needing to wear multiple layers means you can wear more items of clothing. Furthermore, as Alex pointed out, I have a "boot thing," so the cooler weather means I can rock them all the more often. To be fair though, I wear them all the time in the summer anyway. I just don't much like sandals.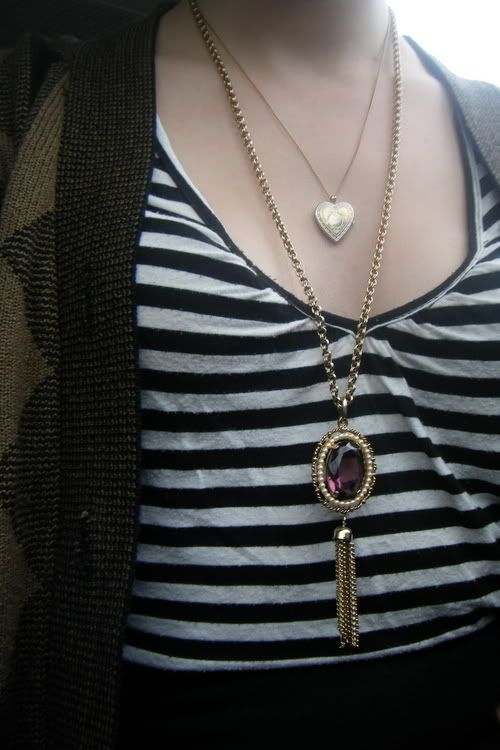 I was so happy and surprised when I found out that I'd won this necklace from the
The Upside of Wonder's All the Pretty Birds Vintage giveaway!
I enter almost every giveaway I see, so I was really happy to actually win for once! It's a really beautiful vintage necklace made by Avon, of all manufacturers. Who knew?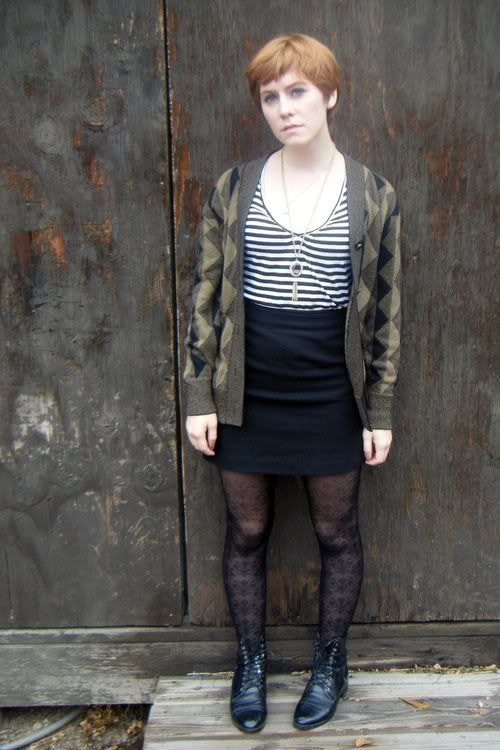 I'm always a little insecure in patterned tights, but I think I should probably get over it...
My dad says that I should stop standing pigeon-toed in my photos. Hmm.
I'm very serious-minded, in case you couldn't tell.