Follow my blog with bloglovin !
Busy, busy, busy. Yesterday, I had a project due in my video art class. On Thursday, I'm exhibiting a collection of photographic prints that I've been working on since July. I had to print a few more this weekend, and I did all the framing in a marathon session last night. I also have a paper due on Thursday and
another
due on Friday. As such, I really shouldn't be writing in my blog at all, but it's just so fun.
I'm so excited to post my work here on Friday--I thought I'd hold you in suspense long enough to show it In Real Life first.
Instead of my reaction-formation sartorial choices of last Monday, I opted for an outfit that conveyed sass while maximizing comfort. It's also really hot--it was in the 80s yesterday and the 90s today.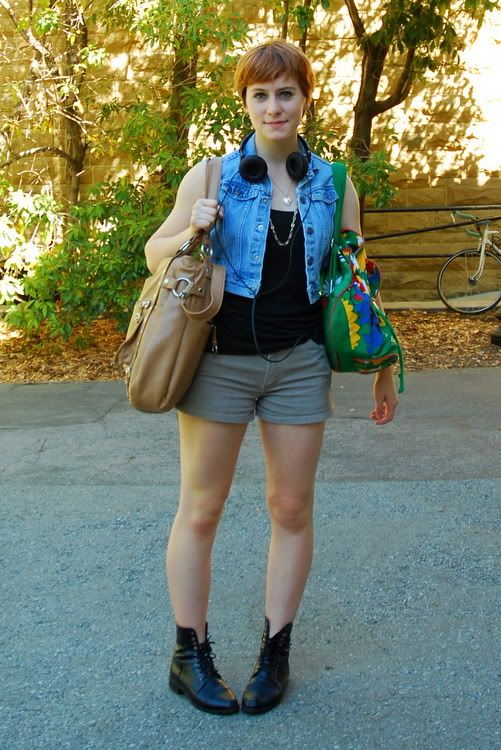 vest: levi's, thrift, $3 -- top: stolen from my mom :D -- boots: thrift, $7 -- shorts: thrift, $4 -- backpack: thrift, $6 -- bag: Franco Sarto via Marshall's, $30
My dear friend Michael every-so-helpfully snapped this for me when he ran into me outside the art building (a.k.a. my second home) yesterday.
Today, I was suffering from what my crazy writing professor from last year would have called an "academic hangover." He never actually defined the term, but I consider it the state resulting from mental overexertion and an inadequate rest. I wanted to wear something that wouldn't be awful in the heat that had legs that wasn't shorts.
top: thrift, $4 -- jeans: BDG, $20, altered by me -- oxfords: MIA via Nordstrom Rack, $40 -- scarf: thrift, $1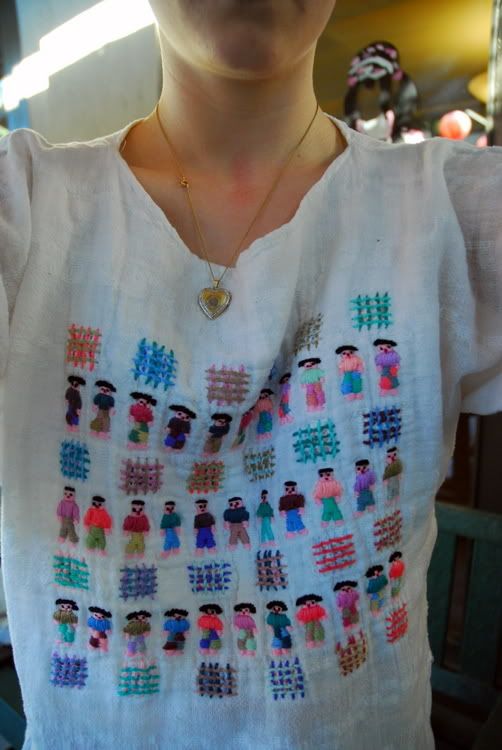 I saw a lot of shirts like this for sale in touristy places when I was in Mexico. I'm sort of confused as to why the people are so pink. I also have mixed feelings about wearing "ethnic" garments in a "look how chic I am" context. It feels kind of colonial. But I also have to remind myself that I don't need to read into the politics of absolutely everything. Reading too much critical theory and going to college make you forget that sometimes.


The light was nice.
I'm writing this to you from outside my dorm house. My laptop was about to run out of battery, so I looked for an outlet. There was one behind some shrubs. I love outdoor outlets; they're so random, but when you need them, you really need them. In my high school, some of the basketball hoops had outlets at the base. That's about as close as I got to using a basketball hoop in high school...
Alex has a great story from his teenage years about using the outlet outside the Rite Aid by his house to plug in amps and jam with his friend at full volume in the middle of the night.
Ok, time to get on those essays, eat dinner, and teach sex ed class...