So, I SHOULD be fast asleep by now, but I got carried away with style sites. So it goes. Anyway, since I'm still up, I thought I'd just go ahead and post. Besides, doing it now will prevent me from giving into my impulse to tomorrow when I really should be working on my paper. Rationalizing? What? Never.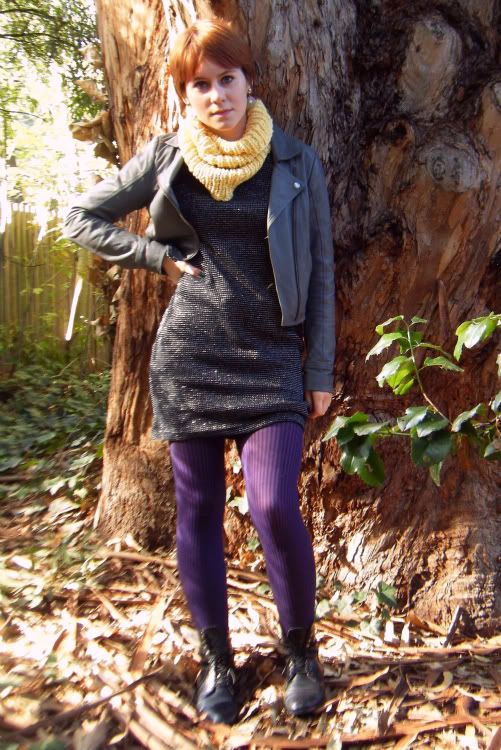 dress: thrift, $3 -- jacket: BP Nordstrom, expensive -- tights: Urban Outfitters, $10 (these are also on their third autumn) -- boots: thrift, $7 -- scarf: knitted by my mom, $ doting affection
My mom knitted me that awesome yellow circle scarf! She's quite the knitter, actually. In fact, she used to write a blog about it, long before I ever started this one.
My dear friend Sam actually borrowed this dress last night to perform a song in drag as part of a presentation on musical theatre in a class he's taking. In all earnestness, it probably looks better on him than on me. Anyway, I also lent him a wig, and as a thank you, he gave me this amazing eyeshadow palette with 50 colors that he bought but didn't end up using. Now that is a good friend :D I had fun doing my eyeliner today with purple eyeshadow.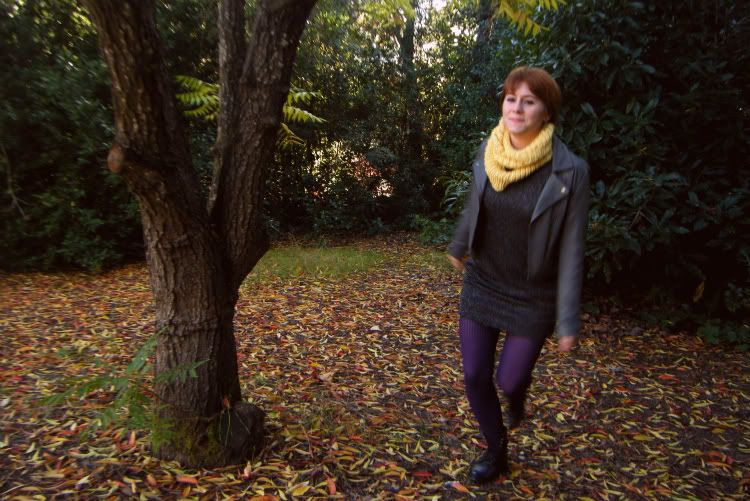 Running to get in the frame on time.
I feel like I'm letting you all down with today's photos after all of the comments on yesterday's. Oh well! I can only do the leaf gimmick once, you know? Hopefully there will be plenty more good photos in the future.
I got a question yesterday about what kind of camera and lens I was using. For yesterday's (and today's) photos, I'm just using a simple little Fujifilm point-and-shoot camera that my father received from his company as a 15-year gift. I actually use several cameras, though, depending on who's taking the photos and what I have available to me. Sometimes I have a DSLR checked out from school, and I'll use that, but it's pretty hard to take good self-timer w/ tripod photos with a DSLR. Since I only have the kit lens available to me, the camera has to be a good distance away to get the whole outfit and not get crazy barrel distortion at the sides of the image, and that isn't always practical... especially in a little forest, hehe. Also, that Fujifilm camera takes 3 shots in a row with brief pauses in between, which allows me to change poses and facial expressions. Alex and I usually do our shoots with a DSLR (he just got one, hooray!).
In case it isn't obvious already, I'm not a big gear person. Gear does help, sure, but your photos won't just automatically be awesome because you took them on an expensive camera. It's all about manipulating the settings and knowing your camera!
Some pointers I have:
1) Set the ISO to the lowest possible (usually 64 or 100). This will make your photos much more crisp and detailed.
2) Set the white balance to custom if available. If not, opt for the setting that makes the prettiest images.
3) Don't use the flash.
4) Digital cameras tend to have bad light meters. To compensate for this, use the +/- settings on your camera. Experiment to see which ones pick up the detail in your outfit. It's often hard to get detail in both the dark and light pieces in your outfit, so don't be discouraged if this is tricky. Consider taking two shots, one for your black velvet and another for your white lace.
5) Look for soft, pretty light that isn't too harsh. Everything will look more balanced and evenly-lit.
Today's title comes from Rilo Kiley -- Science vs. Romance. Jenny Lewis is a goddess.
Thank you for all of your lovely comments! I am super busy this week, so I will try to return the favor just as soon as I can.
Sleepy time!