Just a reminder that today (Tuesday) is the last day to enter the cardigan and purse giveaway!
Alex took these shots of me in downtown Los Altos, a little suburban town that borders my own little (less-charming) suburban town. It was a beautiful sunny winter day. We had fun wandering around and stopping into a few shops as we went. Everything there is quite old-timey feeling. Very Main Street, USA.
skirt: thrift -- bodysuit: thrift -- shoes: thrift -- bag: thrift -- coat: vintage, present from my sister like six years ago -- earrings: Target, present from Alex
This skirt is actually my sister Molly's, technically. We were once at Goodwill together like five years ago, and I walked in, saw this on the rack, and then got distracted by something else before I picked it up. In the intervening minute, Molly also saw it and picked it up. So I just stole it out of her closet last year...which she will now realize when she reads this! Sorry! You can have it back if you want :)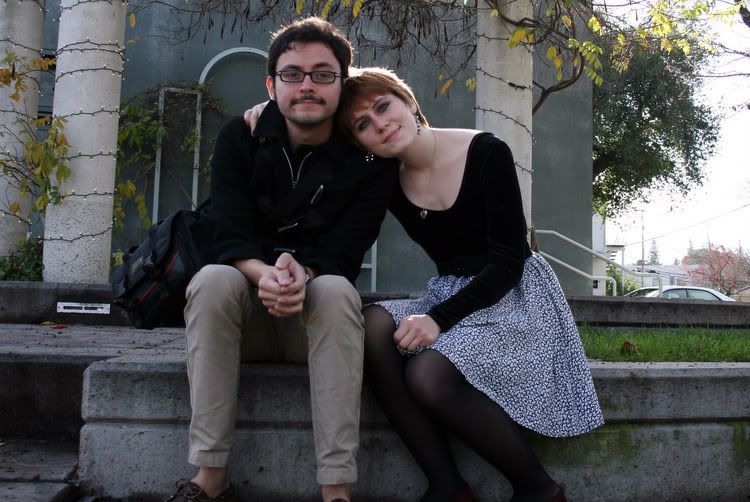 I don't often wear this skirt because I find that it's quite hard to style. Is it black? is it white? floral? graphic? I know not! I gave up on trying to do something that followed my usual matching instincts and just threw in some plaid checks and hoped that would work out okay. I like it! I think it's kinda funky but also classic.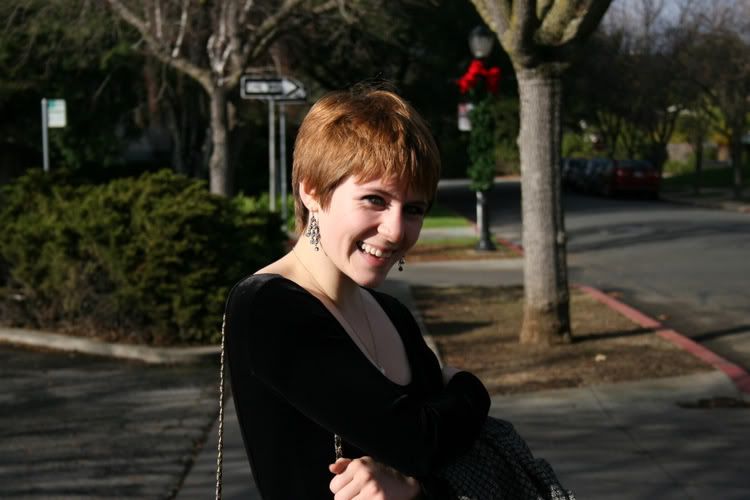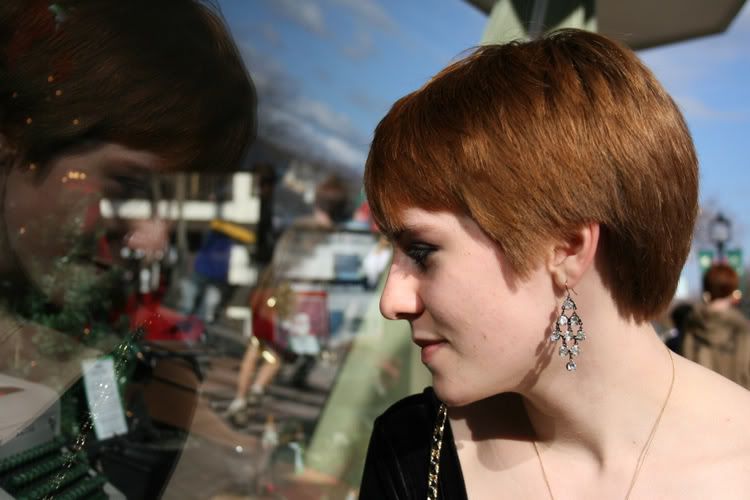 Can't get enough of these shoes!
And now a photo from today showcasing the super rad shirt I bought Alex for Christmas!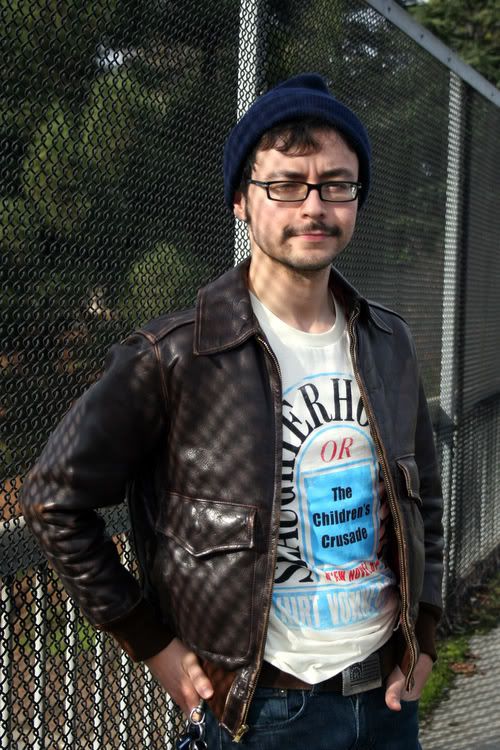 I wish it were some cool vintage thing, but it's actually just from
Out of Print
, a company that makes shirts with cool early-edition book covers on them. The shirt is of great quality and is perfectly weathered. I'd recommend it to anyone! They also donate one book for each shirt sold to
Books for Africa
so you can feel good about your consumerism ;)
As it happens, that's the same cover my edition of
Slaughterhouse-Five
has!
Made all cool and vintage-looking to compensate for the horrible flash photo on my point and shoot.
Tomorrow, the de Young museum with my grandmother! We're going to see the Impressionists exhibit featuring paintings from the d'Orsay, which should be great.
Today's title comes from The Seekers -- Georgy Girl. Fun fact! The lyrics to that song were written by Jim Dale, the guy who does the seriously
amazing
audiobooks for
Harry Potter
. Random, eh?