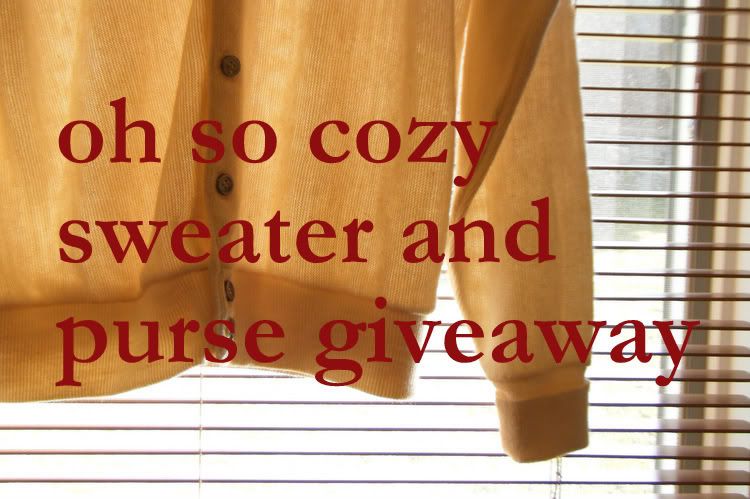 I wanted to do something to thank my readers (past, present, and future!) for all of their support. In the four months that I've had this blog, I've reached a total of 80 followers over GFC and Bloglovin'. I've gone from zero comments on an entry to twenty. That may not seem like a lot to some of you, but to me, it's quite an achievement. There have been so many stressful times where I've thought about shutting the blog down for a few brief moments until I remember that
writing this blog makes me happy
. It's such a privilege and a pleasure to have your support :)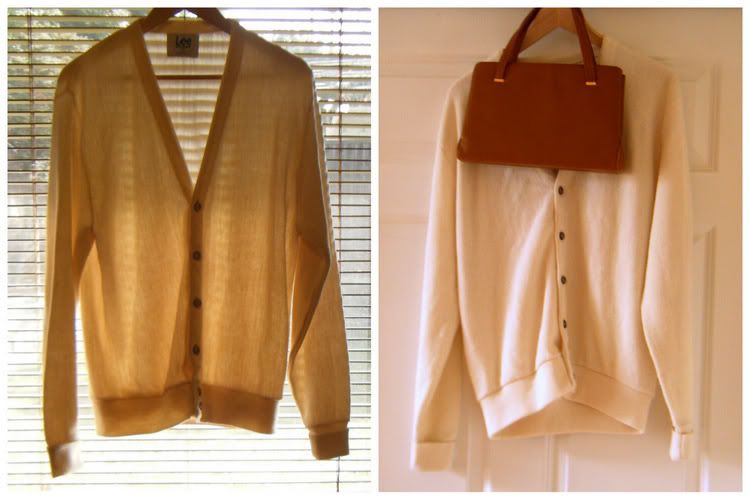 Anyway, I wanted to celebrate all of you by offering you a chance to win this versatile and classic grandpa cardigan! It seemed like the ideal thing to offer up since a woman or a man could rock it and, with a 44" bust, it would be awesomely oversized on a petite frame, nice and drapey on the average figure, and perfectly fitted on a fuller figure. It's a USA-made Lee brand cardigan in awesome condition.
And here we have the purse! I love how classy and classic this cognac kiss-lock bag is. It's extremely well-made and in mint condition. It even has the little tag that lets you know it's Francisco leather, whatever that is! I can tell you that Francisco leather is buttery-soft and has a perfect sheen. It has the main compartment with two slim side pockets--perfect for a checkbook or a phone.
To enter:
1)
Leave me a comment letting me know how you're following the blog (GFC/Blogger, Bloglovin', or Facebook).
2)
Tell me your favorite up-and-coming blog! Style or otherwise :)
3)
Tell me your email so I can notify you if you win.
For an extra entry:
4)
Mention this giveaway in a blog post or tweet, and tell me you've done so in separate comment :)
Open to international readers!
Giveaway ends on 12/28
And onto the outfit!
dress: ModCloth -- boots: thrift -- cardigan: thrift -- coat: thrift -- bag: vintage Coach purse from Alex
I bought those boots on Monday and I'm
obsessed
with them. I can't tell you how long I've been wanting a pair of red leather boots. Anyway, I found them for $7.50 at my new favorite Goodwill! Yes!
The Salvation Army bell-ringer in the shopping plaza where I took those told me that I "looked like a girl in an 80s music video." That made me really happy because my dress was called "The Andie Dress" on ModCloth (as in Molly Ringwald's character in
Pretty in Pink
).
Gotta seize the opportunity to say that 1) Andie and Ducky wouldn't work and it isn't mean to reject someone you aren't interested in and I'm sick of hearing people complain that she doesn't go with Ducky and 2) that dress she makes at the end is so ugly and does a disservice to all the awesome stuff she wears in the rest of the movie.
Alex and I are going off on our trip tomorrow and I couldn't be more excited! Look forward to a post chock-full-o-pictures of our adventures. I've decided to change Photo Friday to Photo Sunday, too, since I think that will translate into me actually doing it :P
Thanks again for all of your support! xoxo