I'm currently studying for my American history final at the moment, but I found these in my student folder on the university server, and I thought I'd share them with you. They're some tintypes I made in my alternative processes class last spring. I'm actually really into alternative processes. I enjoy the sense of craft and tactility that is more or less lost in traditional silver printing and quite certainly lost in inkjet prints. I mean, I love the ease of digital technology as much as the next person (well, maybe a little less), but it's just not the same creative experience.
These are
tintypes
, which was a relatively low-cost and therefore popular photographic process back in the second half of the 19th century. I can't claim responsibility for actually creating the photosensitive plates we printed on--that honor goes to
Naomi Vanderkindren,
who led the workshop--but I did print and process them myself. I also can't claim ownership for taking any of the actual images. The ones of the woman with knitting are photographs my grandmother took of my great-grandmother and then printed on Kodalith film which I used to make contact prints. The one of me was made in-camera by my classmate Lucas.
These are in actuality about one quarter the size they appear here...
I like to think of this as a real piece of family history. My great-grandmother as captured by my grandmother as printed using antiquated methods by me. Four generations of sassy ladies!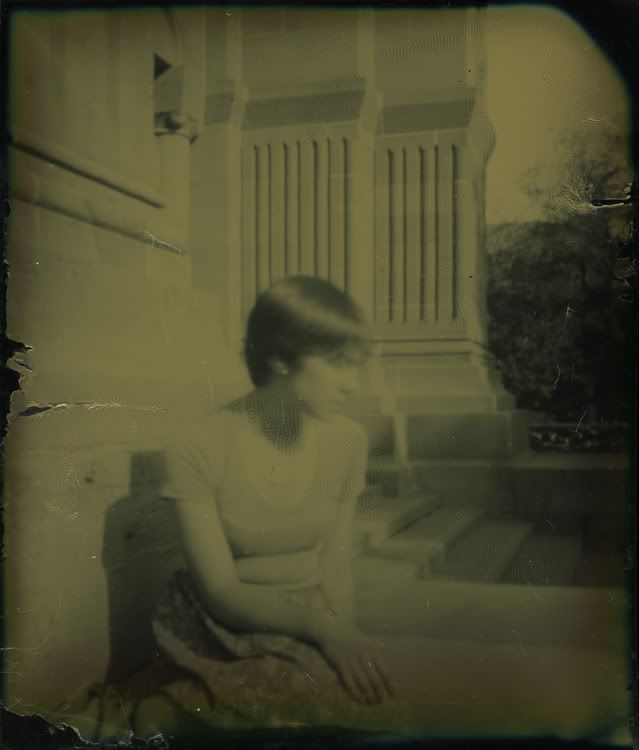 This one came out very soft and overexposed. My face is blurry because it was a 10 minute exposure... and I am not very good at keeping still. Or not being a klutz. I have almost zero kinesthetic intelligence.
This one was printed on a plate Naomi had made over a year ago at the time, so it came out kind of dingy. But I like it anyway, especially after fixing it up a bit on Photoshop. On that note, all those speckles and imperfections you see are the result of the medium itself, not a dirty scanner. It's essentially dried photographic jello on a painted piece of tin. It scratches quite easily.
Anyway, since I can claim only partial authorship of the above images, I feel compelled to share with you all some of my other work using traditional processes.
gelatin silver print from b&w film, 2007
scan of c-41 negative, 2009
scan of c-41 negative, 2010
scan of c-41 negative, 2010 (this one isn't nearly so contrasty as it appears in this compressed, resized format)
Anyway, obviously still working out my aesthetic "schtick" with straight photography, but I've got time.
PS--
check out some of Naomi Vanderkindren's tintypes
, they're way better than mine. She's a pro with a great eye, creative approaches, and the technical skills to back it all up.