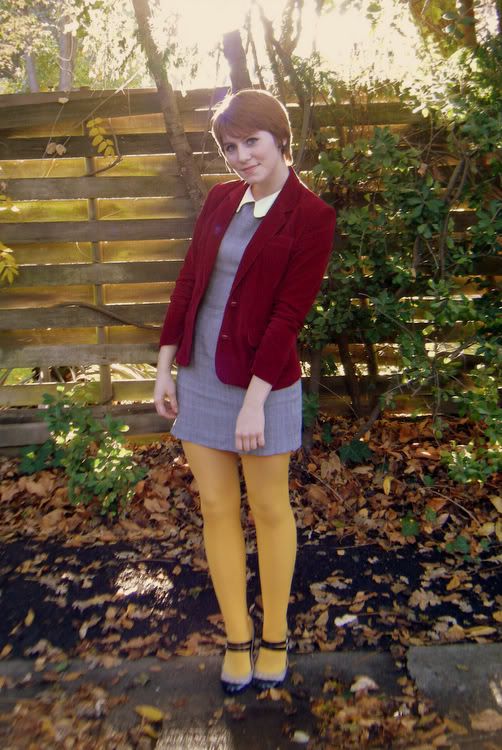 dress: thrift, $3 -- tights: Payless, $2 -- blazer: thrift, $8 -- shoes: Delicious via Ross, $14
If you've known me for more than about a month, you'll know that I'm really insecure about my legs. It's silly, I know, but I always feel like my ankles are disproportionately thick for my frame. My legs are kind of the last frontier of my adolescent body insecurities. Both these tights and these shoes usually make me feel really self-conscious since they draw attention to what I semi-affectionately refer to as my "borderline cankles." (Which, I'm well-aware, is a bit of an overstatement.) I almost never wear these shoes for that reason, and I've never worn these tights before despite owning them since August. Anyway, I'm really happy to report that I didn't feel cankle-y at all today. Even if I looked it. I loved my outfit, and I just didn't care. And this is not a plea for supportive ankle comments, either. I don't need them :) because I'm always feeling less and less insecure about them with each passing day. The blog has actually helped a lot. Taking a gajillion photos of yourself and posting them on the internet makes you get over insecurities pretty quickly.
The dress buttons down the back! And get a load of that bed head... oops. And I need to cut my hair.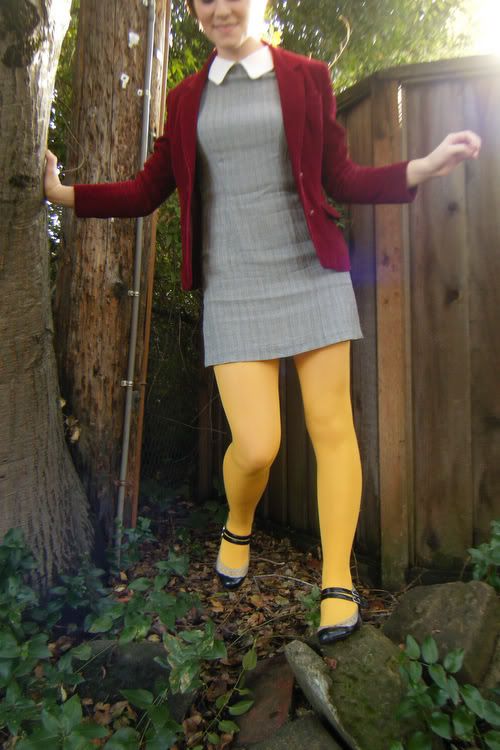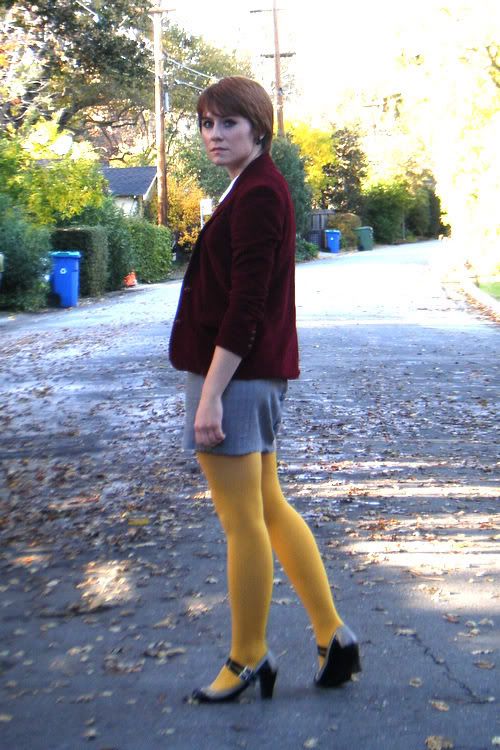 I made you guys a Christmas/winter mix! I was inspired to create it after Kallie at
Happy, Honey, and Lark
posted one :) I wanted to host it online for streaming, but a lot of the songs weren't available online. Instead, I made it with mp3s for you to download. No viruses, pinky swear.
You can download it here.
A Winter Wandering
1) The Leopards -- Dancing in the Snow One of the cutest, happiest little ditties ever. Alex always says it makes him think of cats dancing and playing the piano.
2) John Lennon -- Happy Christmas (War Is Over) Always a classic. Pro-love, pro-peace, and just a little naively optimistic.
3) Beach House -- All The Years Tender, ethereal, slightly foreboding. Perfect for snuggling.
4) Big Star -- Jesus Christ Corny, strange little Big Star Christmas song. But I like it.
5) The Apples in Stereo -- Winter Must Be Cold Another peppy winter ditty to break up the gloom of half of the tracks on here. Toe-tappin' good times.
6) Jens Lekman -- The Cold Swedish Winter Classically weird Jens Lekman lyrics that tell a sweet, kind of depressing little story about needing someone to cuddle with.
7) Vince Guaraldi Trio -- Christmas Time Is Here Speaks for itself. Probably the best Christmas song ever.
8) Otis Redding -- Merry Christmas, Baby Otis Redding was one of soul's most talented performers. This song always puts a smile on my face.
9) Francis Lai -- Une homme et une femme (chant) The pretty, catchy, and simple theme from the film of the same name.
10) Angelo Badalamenti feat. Julee Cruise -- Falling The most lonely song about falling in love ever.
11) Echo & the Bunnymen -- Ocean Rain A really epic song with an awesome vocal performance.
12) Arthur Russell -- I Forget And I Can't Tell (Ballad of the Lights pt. 1) This song is really warm and cozy. I'm addicted to it.
This time of year always puts me in a funny mood. Finals/projects, the shorter days, and the rain and the clouds depress me even as Christmas songs (well, ones I like), gift shopping, and family togetherness bring me that holiday cheer. I also miss Alex a lot. We just don't get to see each other a whole lot, but we're really used to spending a lot of time together. On the one hand, I don't really have the time or energy to spend with him, so even if he were here, I'd probably totally take it for granted. On the other hand, it always makes me a little sad to fall asleep all by myself after a long, rainy day. And it'd be nice to just have some company in my little cave-like room. And, y'know, I love him, and being around him makes me happy.
Today's title is from that Arthur Russell song in the mix :)