So, Photo Friday simply didn't happen this week. Oh well, there's always next Friday! Anyway, here's what I wore on Thursday.
blazer: thrift, $1 -- skirt: thrift, $3 -- top: thrift, $4 -- boots: thrift, $7
I was literally busy all day, so I didn't have time to go take good photos outside. I ended up snapping them in the art library in the brief break between my two lectures, and, while you can't see any detail in my lower half at all, the library does match my outfit pretty well. Florescent light sucks, too.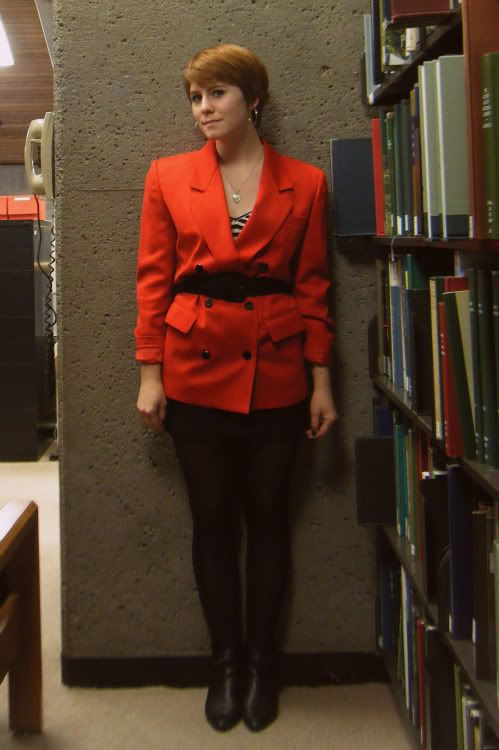 I bought this absurd blazer at one of my favorite little thrift shops on sale for $1 back in October. I hadn't worn it yet... I've pretty much been working up the courage to wear it since I bought it, to be honest. I thought it was a lot of fun to wear, though. It definitely attracts lots of attention, which I like (because I'm a total attention junkie--I mean, I have my own style blog...) and makes me feel like a character in an Almodovar movie. This is also the only thing I've ever left the shoulder pads in, and I discovered that they make carrying my really heavy tote around a lot more comfortable, haha.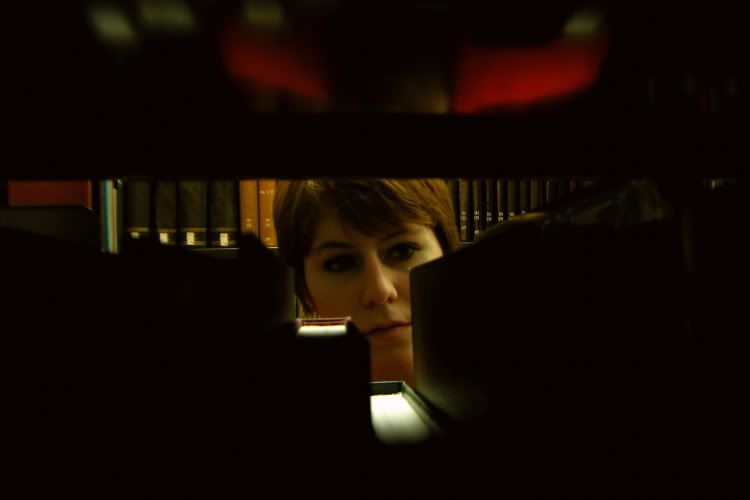 Anyway, I'm now all done with papers and projects. Two finals to go, and then I'm free! Hooray! Don't get me wrong, I love school, but I really need a break.
I had a really,
really
relaxing weekend. I didn't do anything productive, and I slept for 22 hours. I hung out with Alex on Friday night, and we woke up late and spent a few hours out and about on Saturday. I had to go back to my co-op house and clean the kitchen, and after doing that, I went out for dinner with Sam. Then I went with some housemates to go see
Rocky Horror
with the whole cast/yelling/midnight bit, and didn't get home until 3 or so. I went to bed at 4 am, and woke up at 2:40 pm. I don't think I've EVER slept that late in my life, haha. I guess I really needed it! Since then, I've just been reading blogs and eating. I've been eating a lot recently... Stress, holidays, etc. No guilt whatsoever though, I've enjoyed every bite of it.
My father, who is a cancer survivor, had to go to the hospital last night because his gastrointestinal tract became paralyzed. Freaky stuff :( But he seemed like he was feeling okay when I spoke to him on the phone. Apparently it may have been caused by some anesthesia he was under for a routine procedure recently. Whatever the cause, I hope that it doesn't happen again.
My dad always says that he's "grateful for modern medicine." And really, just thinking about it, it is pretty amazing. His pain last night was so bad that he had to keep himself from screaming. Six hours later, he was able to come home. Six more hours later and he felt good enough to speak to me on the telephone in a relatively cheerful tone of voice. And, of course, his cancer treatments have probably literally been a life-saver. It's just strange to think how far medicine has come in such a short span of time.
Anyway, tomorrow (well, I guess today, now) is going to be a day for studying and errands! Since I don't have class, I think I'll take advantage of the opportunity to spend some time off-campus. I love it here, but I take almost every chance I get to enter the (relatively) real world.
Today's post title comes from this song in
Rocky Horror
that's stuck in my head. It's called "Planet, Schmanet, Janet," and it's really ridiculous. And awesome. (That pretty much sums up the entire movie, really.)