I'm sorry I didn't update much this past week (including a missed Photo Friday AGAIN, yikes). It's been a really intense week. Aside from studying for and taking finals, I had to completely move out of my room and into a new one in my dorm house. Thanks in no small part to the assistance of my friends, especially my dear friend Josh, I was able to move without too much stress. That was all well and good, really. It's just been a really awful week in very big ways for some people that I really care about. All of my concern, sympathy, empathy, anxiety surrounding all of that just hasn't made me feel particularly blog-y or inspired.
Anyway, I'm home with my parents now, and everything is all finished for the quarter. It's great to be home and to be out of school, but I miss my friends a lot. Two of my best friends smoke, and I often go outside and sit with them and drink tea while they have a cigarette. The conversations we have out there always really help me process the events of the day.
I spent a really good, lazy weekend with Alex. We're going on a trip together overnight on Thursday that will be really fun. I can't wait :)
blazer: thrift -- shorts: thrift -- top: took from my Mom in freshman year of high school -- knee socks: ModCloth -- shoes: MIA via Nordstrom Rack -- purse: vintage Coach bag from Alex
I'm wearing that same blazer I had on in the last outfit I posted here. Guilty! Oh well, it's one of my favorite pieces. Besides, having a style blog shouldn't be about never wearing the same garment twice.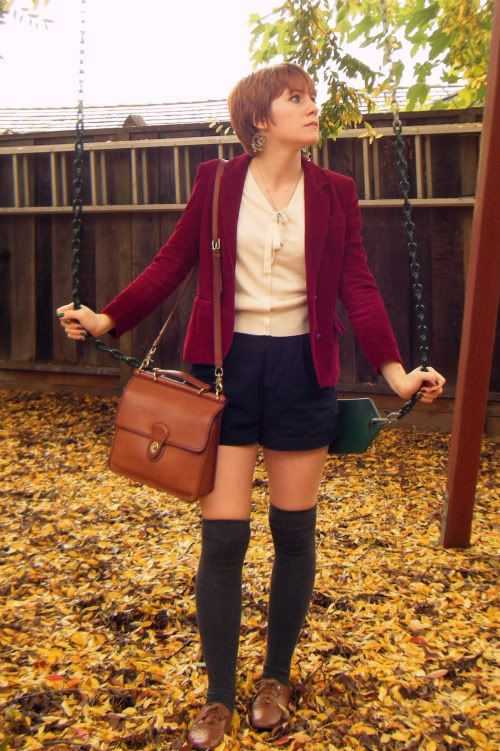 Finally talked myself into wearing my knee socks in public. I didn't regret it a bit! And I didn't feel insecure, either. Just a little cold :P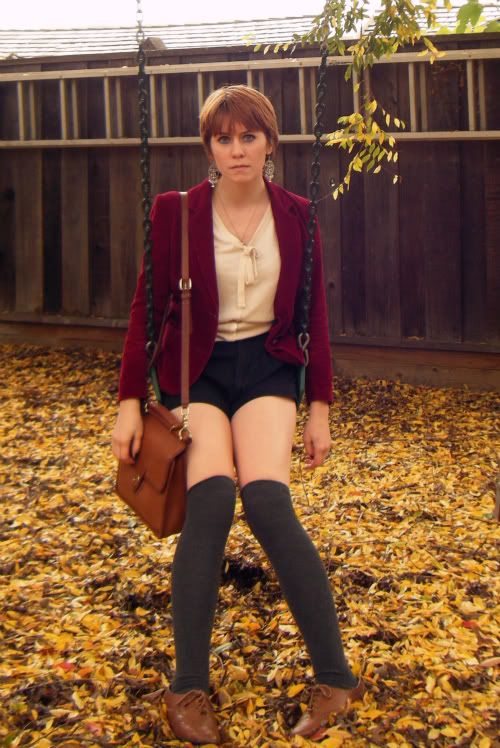 Today's title comes from Best Coast -- "Crazy for You." I've been listening to their album on repeat all day... It's really infectious indie pop. Liz Phair meets Phil Spector meets The Ramones. Really,
really
dumb lyrics, but in a totally non-ironic, unpretentious way, which is kind of cool in its own right.