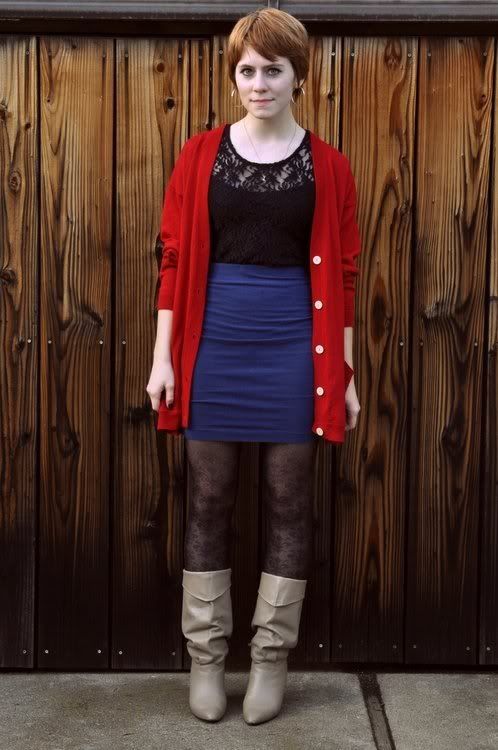 top: thrifted, $3 -- skirt: thrifted, $4 -- sweater: thrifted, $3 -- tights: Nicole Miller via Marshalls, $3 -- boots: thrifted, $8
I think navy and black is an alleged no-go, but I've always liked it. The most recent Lucky also warned against ever wearing more than 3 colors in one outfit, which was pretty stupid advice if you ask me. My four colors and navy-black was just
so
rebellious (hence the post title.)
We had a daytime high of 55 degrees Fahrenheit (13 degrees Celsius) today, which is about as cold at is ever gets here. So I was really cold. I know it's not that cold, but it is to me. It was super cloudy and dark out, which made it hard for me to get decent photos. I think I need to just bite the bullet and start getting up earlier so I can take some photos with the morning light. The light from the west in the afternoon is totally obstructed in our entire yard.
Giant cardigans make excellent capes.
Thank you all SO MUCH for the abundance of comments on my last post! It's really encouraging, and it makes me super happy.
I had a nice time running some errands today. Cobbler, Goodwill, Target, Post Office, Trader Joe's, and the produce shop. (I really wanted to say "greengrocer," but I decided I just need to embrace my American English. Haha.) Running errands is one of my favorite things to do, oddly enough. It relaxes me.
Today's title comes from the song "I Fought the Law." Most people know The Clash version, which is my favorite, but it's actually a Sonny Curtis composition that he performed with a post-Buddy Holly Crickets. It was covered by The Bobby Fuller Four in 1965. There's a cool little video of the Bobby Fuller Four with an awesome intro that I thought I'd share.