Somehow, my life has managed to get even busier than it's been! Jeez. Spending time on my outfits has been pretty difficult, and that's only been compounded by the fact that I don't have access to almost all of the shoes I've been wearing lately plus a lot of my clothes. And the fact that I haven't been getting enough sleep. So I don't even really like my outfit today much--it was just me making do with what I had, really.
Anyway, I had to take my pictures in a rush today, and they didn't turn out to my normal standards :(
I am making pretty much the weirdest face ever in this photo.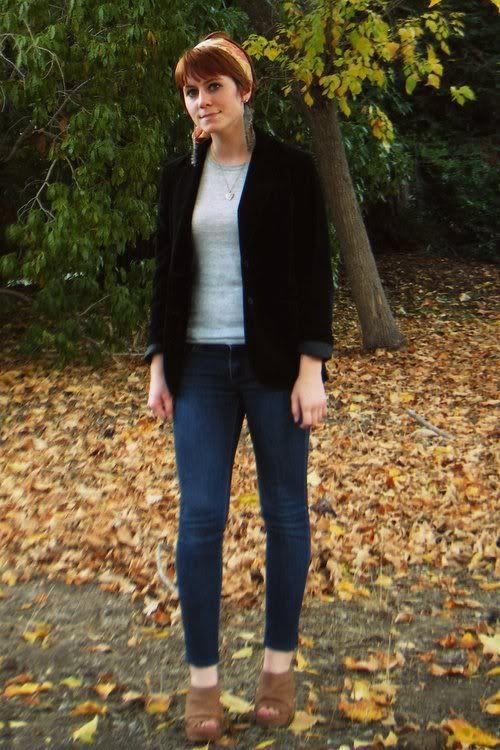 blazer: thrift, $15 -- jeans: BDG, gift from Alex, $20 -- shoes: Forever 21, $20 -- sweater: Gap, $14 -- scarf: thrift, $2 -- earrings: Urban Outfitters, gift from Daisy
Only two thrifted pieces on today! That's unusual. I almost never wear this sweater anymore, but it's the comfiest thing ever. It's that amazing cotton-cashmere blend. So soft!
I can't get enough of this scarf. It's one of my all-time favorites. These earrings make me so happy, too! And there's my locket from Alex <3
Ridiculously tall shoes that made me at least feel kinda glamorous even if my outfit is boring. They've got this weird fuzzy stuff to simulate wood, which you can tell in this photo but not from the distance between others' eyes and my feet :P

Here's a snippet from an email I sent to one of my TAs asking for an extension that speaks to how ridiculous my life is at present.

I mentioned that my week is "hellish," but I suppose that's sort of vague. More specifically:

yesterday

I had to go to traffic court for three hours, go to work for four hours, and then spend two hours working on a group project; today the class I teach is having its final, and I have to attend to a lot of administrative tasks to that end; on

Wednesday

I have a morning appointment and then have to both cook dinner (2+ hours) for my co-op house and attend a 2 hour gallery opening for some art that I'm exhibiting...and drop off my car at the mechanic after that; and on

Thursday

, I have to work on that group project for four hours. All of this is, of course, in addition to all of the usual class, reading, and homework I have to do.


On a happier note, I got my traffic fine reduced by $100 bucks. Hooray!

Today's title comes from

Brigitte Fontaine -- Comme Rimbaud

. It's a really clever song, I wish I spoke French so I could understand it without having to get some ridiculously stilted Google translation. The title phrase translates to, I think, "but maybe you just don't like literature."