This is my favorite dress. Possibly of all-time, ever, certainly of my life thus far.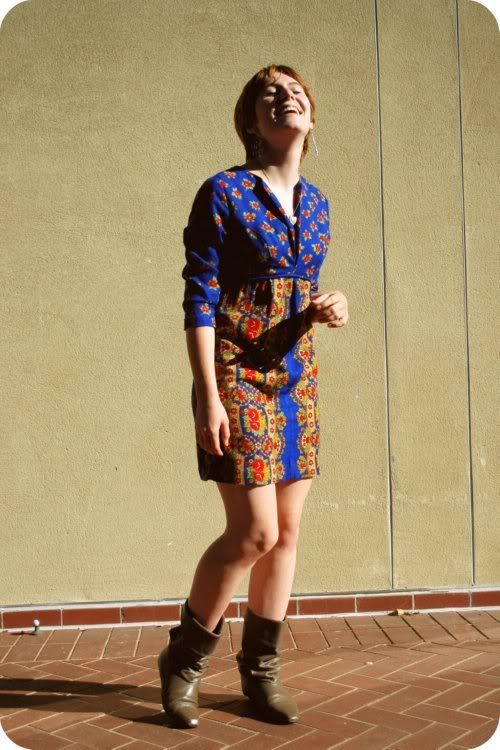 dress: vintage, $18 -- shoes: vintage, $14
Thanks to Jin for taking this photo! Cracking up inspired by "Come on, Sophi, show some emotion!"
I call it "my Grace Slick dress" because it seems like something she would have worn back in 1967.
The Incomparable Grace Slick. Image from this article.
The first time I tried on the dress, I thought it was wonderful, but I was looking for a summer dress. It was too polyester, too tight, too long-sleeved. And it was floor-length. I passed it up, only to wake up the next morning just
knowing
I needed it.
At the time, however, I couldn't drive (being 15), so I had to wait a couple weeks to get back to the vintage store where I found it. When I got there, it was gone. I scoured the store (probably about 1500 square feet) in search of the dress. No luck.
Some months later, I was flipping through a rack of dresses when BAM! there it was. The Grace Slick Dress! I made it mine, took it home, cut off the bottom 12 inches, and hemmed it the same night.
I just feel like this dress is me in garment form, so it feels really feels like an extension of myself when I put it on. It just makes me happy. I also almost always wear it unaccessorized. It doesn't need anything but a great pair of boots and, when it's colder, a cozy cardigan. I'd normally wear my brown cowboy boots, but they're in desperate need of a resoling at the moment, so I opted for these taupe slouchy ones. Not as good, but it works. Nice and simple.