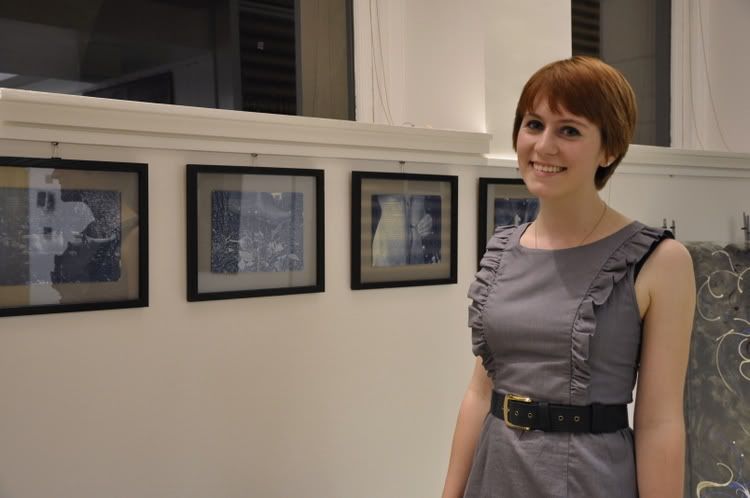 Jin took this for me cause she's a photo goddess.
Here I am at the gallery opening! It was kind of sparsely attended since it was on a Wednesday night and there were two gallery openings last night, haha, but I didn't really mind. The work is up in a very high-traffic building, which, although it makes me nervous, means that hundreds of people will see my work every day! I've even already had a random Facebook message from a stranger about my work! So cool :D
I also didn't mind that it was under-attended because it meant that I got to eat lots of cheese. Bleu, Parmesan, goat cheese with cranberries, and, my all-time cheese fave, Brie!
The best thing about the evening, though, was that I randomly ran into two of my favorite teachers from high school! I guess they're both in the same Continuing Studies class that happens to meet in the building whose lobby the gallery occupies. Anyway, it was wonderful to be able to show them my artwork. I didn't really exhibit much art in high school. I was always too busy taking theatre and English classes to take art classes. I've since stopped doing theatre, but I'm still taking about as many humanities classes as a lady can handle! I love art because it allows me to use a different part of my brain and engage with my ideas on a non-literal level.
If you wanna take a look at the work without the ridiculous reflections, check it out
here
!
An innocent bystander takin' a look at my work.
Well, things are
sort of
winding down in terms of being busy. I feel confident that I can make all this stuff happen! As soon as I finish this post, I'm going to do some history reading and then get (gasp) A Solid Eight Hours of Sleep. I used to be so good at this, but I've really fallen off the wagon this year.
Here's a photo of me pretending to be a woman on a brochure about corporate benefits or something. It took us like five tries to get this picture without us all cracking up. Which is to say that corporate benefits brochure was the look I was going for. I'm a pretty silly person.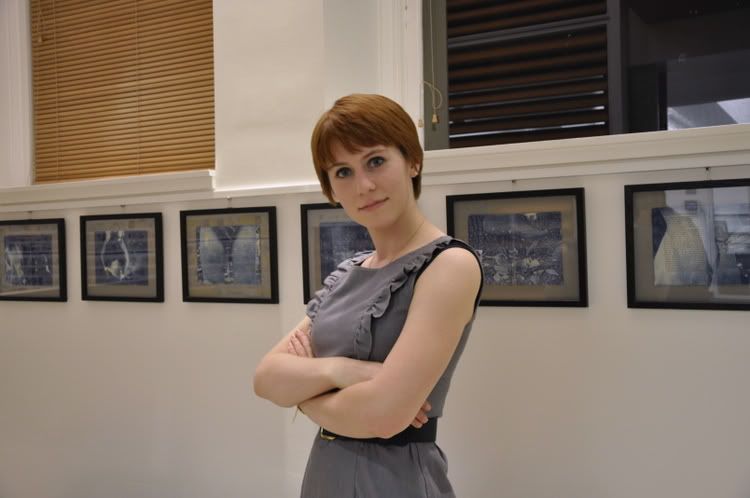 Didn't get a head-to-toe shot, but I just had on these shoes with my dress.
Today's title comes from The Olivia Tremor Control -- "Holiday Surprise." Weird band name, but seriously some of the greatest neo-Psychedelic music the 90s had to offer.
HARRY POTTER TOMORROW NIGHT!
I love all of your comments so much, and I promise to be a much better blogger and reader next week!