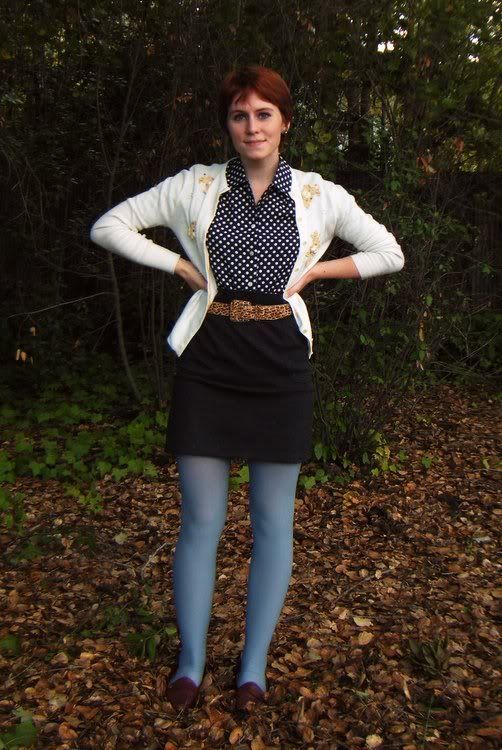 top: thrift, $1.50 -- sweater: thrift, $4 -- skirt: thrift, $1 -- shoes: thrift, $6 -- tights: Urban Outfitters, $10 -- belt: thrift, $2
So I was originally going to wear this outfit on Tuesday, but being sick got in the way. It actually was pretty nice though because it meant I didn't have to spend ages agonizing over what to wear the way that I usually do.
I'm up way past my bedtime at the moment because I'm working on a paper that's due today. I've actually never done this before. Ever. Not in middle school, not in high school, and not in college. I've finished plenty of papers the morning of the day they were due, but never late into the night before. I'm not much of a night owl, you see. I like my sleep, and, provided I get enough of that, I like mornings, too.
I went to a very moving event tonight before I started working on my paper. It was a talk by Somaly Mam, a Cambodian woman who founded a really amazing NGO that provides shelter, empowerment, and education to girls who are victims of sexual slavery and sex trafficking in Southeast Asia. Somaly Mam herself was a victim of sexual slavery. Her NGO is also working with governments to increase legal penalties for brothel owners and johns while abolishing legal penalties for underaged sex workers. (Did you know that even in many states within the US, if a 14 year old girl were arrested for prostitution, she would be treated as a criminal and not a victim?)
Check out the Somaly Mam Foundation
and spread the word to raise awareness.
Somaly Mam brought with her several adolescent girls who are survivors of sexual slavery rescued from brothels and rehabilitated by the foundation. When they introduced themselves, they all reminded us in the audience just how lucky we are, not just to be getting a university education but also to simply be loved and cared for by our parents, families, and friends. It's so easy to forget how lucky I am sometimes. But I really and truly am, and I am so grateful to have access to all the resources I do and, most importantly, to give and receive so much love.
Oh, and... it feels incredibly shallow after all of that, but a couple more outfit photos...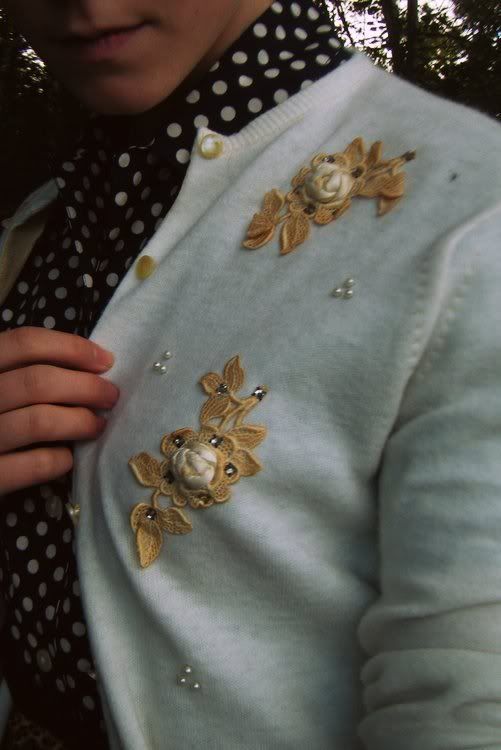 Today's title comes from a really silly but nevertheless poignant song called "The Weapon" by...
Harry and the Potters.
They're a band that sings about Harry Potter, and they founded a
genre of music called wizard rock
. I never really got into it myself, but my sister Molly was really into it a few years ago and even had a
very successful act herself
. I went with her to a couple Harry and the Potters shows. I'm a pretty big Harry Potter fan even if I'm not much of one for wizard rock, and one of the things that I most appreciate about the series is that the driving, healing, unifying force is love. Pure and simple. "The Weapon" isn't a really a weapon at all. Love is generative, not destructive. Anyway. I just thought of this song when trying to come up with a good title for today's post.
Time to haul my dorky self to bed!