Ralph Eugene Meatyard, 1929-1972, sounds like a very normal guy on paper. WWII veteran, Midwestern, happily married, three children. He was even born in a town called Normal, Illinois. But once you take a look at his photographs, you realize just how exceptional he really was.
Unlike his relatively glamorous contemporaries on either American coast, Meatyard never earned his living as a photographer. He spent his entire adult life working as an optician in Lexington, Kentucky. On weekends, he, his wife, and their children would go out to abandoned houses and buildings where Meatyard would arrange complex scenes and capture them on film.
There's a wonderful article about him
here
that you should check out!
Many of Meatyard's are sort of simultaneous reflections of and projections onto the immediate surroundings. The peeling paint becomes wings because we see the movement of the boy's arms, and the boy's arms become wings when we see the feathered peeling paint.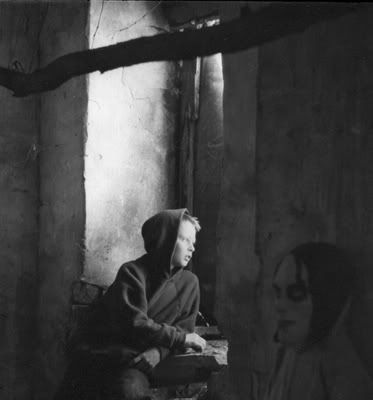 I love how the light in this photograph almost seems external to it even as it dictates the boys' placement in the room.
This one always seems to stick out a little to me. It's as close to tenderness as he gets, I think.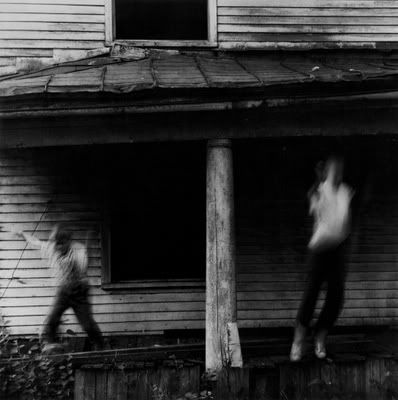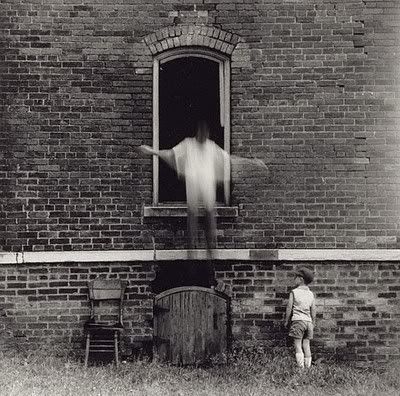 I love the way that Meatyard's work is so conceptual without being pretentious or alienating.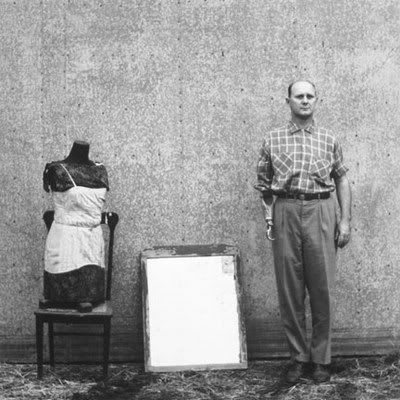 Sources
http://oberlinphoto.blogspot.com/2008/10/ralph-eugene-meatyard.html
http://www.mocp.org/collections/permanent/meatyard_ralph_eugene.php
http://azalolaza.blogspot.com/2007/05/meatyard.html